Shalom as Equity: Disability, Health Care Disparities and Social Justice During COVID-19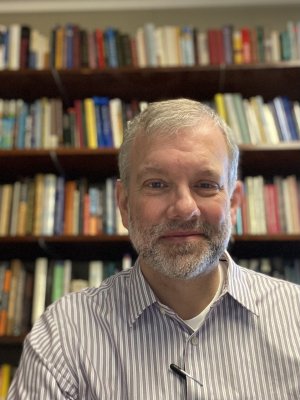 C. Henry Smith Peace Lecture: "Shalom as Equity: Disability, Health Care Disparities and Social Justice During COVID-19," by J. Alexander Sider, professor of religion at Bluffton University
Date & Time: Tuesday, April 19, 2022,  7:30 p.m.
Location: Administration Building, Room 28
Dr. J. Alexander Sider, professor of religion at Bluffton University, will present the C. Henry Smith Peace Lecture, titled "Shalom as Equity: Disability, Health Care Disparities and Social Justice During COVID-19" on Tuesday, April 19 at 7:30 p.m., in the Administration Building, Room 28. This event is free and open to the public.
The lectureship honors the late professor who taught at Goshen College for 10 years and Bluffton University for 35 years. Smith was known for his books on Mennonite history and the peace tradition of the Mennonite churches. After his death in 1948, his estate established a trust in his name that funds projects—including the lectureship—that promote the Mennonite peace message.
The lectureship is awarded each year to a faculty member from one of the Mennonite colleges, with priority given to Goshen and Bluffton faculty. The chosen faculty member must prepare a lecture that promotes the Mennonite peace stance, then present it at Bluffton and Goshen and at other schools and on other occasions as invited.
Beyond basic moral considerations like distributive justice and health care rationing, shalom and its associated concepts provide a moral vocabulary for connecting structural justice with health, well-being, and peace by promoting equity as a basic condition of human flourishing. Nowhere is the relevance of this conceptuality clearer than in response to how the COVID-19 pandemic highlighted existing inequalities and injustices for persons with disabilities.