Research team studies effects of prescribed burns in Kenya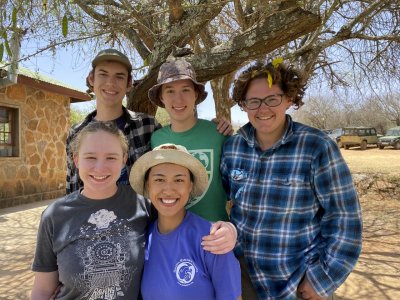 For two weeks in February, five Goshen College students joined Ryan Sensenig, professor of biology, in Kenya to assist with prescribed burns inside the Kenya Long term Exclosure Experiment (KLEE).
The five students who traveled to Kenya include Willow Kenneda, a sophomore environmental and marine science major from Williamsburg, Ohio; Alex Graber Neufeld, a sophomore biology and Spanish major from Harrisonburg, Virginia; Annalise Nisly, a sophomore environmental and marine science major from Bluffton, Ohio; Amelia Witmer-Rich, a first-year molecular biology/biochemistry major from Chagrin Falls, Ohio; and Mira Yoder, a sophomore environmental and marine science major from Harrisonburg, Virginia.
Based at Mpala Research Centre in Nanyuki, Kenya, this research follows up on visits in 2013 and 2018 to test the effects of grazing and fire on soil carbon, to better understand how to manage grasslands to sequester carbon.
"This component of the research parallels our Tallgrass Prairie Grazing Project in Indiana where we are examining the effect of fire and grazing (separately and together) on carbon sequestration," Sensenig said.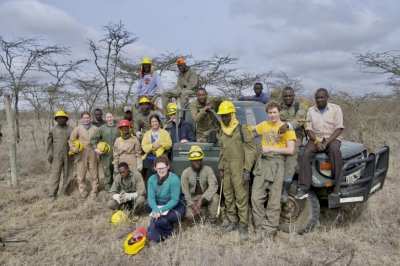 In addition to the carbon sequestration research fieldwork, students were also able to collect data for individual research projects, including studying burn patchiness, bird foraging or ant evacuations.
Three students collected data on ant evacuation by counting ants as they evacuated whistling thorn trees during a burn. "You could see the ants speed up as the smoke got closer, the ants would go into the soil at the base of the tree," Kenneda said.
Two students studied bird responses to smoke, noting how swallows are drawn to the smoke from prescribed burns. Students observed that the swallows seem to be cueing on the smell of smoke to see if the fire is driving away insects on which they can forage.
The team collaborated with colleagues from several universities such as Harvard, UC Davis, Karatina University and Utah State University.
"We look forward to future trips where we can sample and analyze the soil from the burns we completed this month," Sensenig said. "I am also so grateful for the collaborators and Kenyan colleagues who continue to make this work so interesting."