Students win at Kennedy Center American College Theater Festival
Three Goshen College students competed at the Kennedy Center American College Theater Region III Festival, which took place virtually Jan. 5-9, 2022.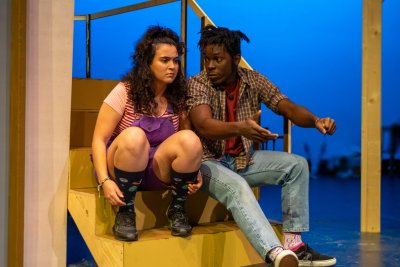 Dontaye Albert, a first-year theater major from Orlando, Florida, advanced to the finals in the Irene Ryan Acting competition and won the Irene Ryan Selection Drama Award. Fatima Rhana, a first-year theater major from Wilton, California, was his scene partner in a scene from last semester's fall mainstage play, "Brooklyn Bridge."
Sarah Bailey, a sophomore theater and sign language interpreting major from Joliet, Illinois, directed the winning team in the Design Storm competition, teaming up with students from across the region to develop a design for a play or musical. Bailey served as the director for the team working on the musical Fun Home.
"We are delighted by Bailey, Dontaye and Fatima's success, recognized among hundreds participating at the KCACTF Regional Festival," said Amy Budd, assistant professor of theater. "These events are highly competitive and it's especially exciting for first and second year students to excel at this level. We look forward to continuing to develop their talent as they grow and share stories with our campus and community."
The Kennedy Center American College Theater Festival showcases the finest in university theater across the nation. Through eight regional festivals plus the national festival in Washington, D.C., the festival celebrates artistic excellence and offers students individual recognition through awards and scholarships in playwriting, acting, dramatic criticism, theater management, directing, and design.