From Rio de Janeiro to Naples: Pink Martini to present an evening of multilingual repertoire at Goshen College on Oct. 22
Performing Arts Series: Pink Martini featuring China Forbes
Date and Time: Friday, Oct. 22, 2021, 7:30 p.m.
Location: Goshen College Music Center's Sauder Concert Hall
Tickets: $60, $55 or $45 available online or at the Box Office (boxoffice@goshen.edu, 574.535.7566).
---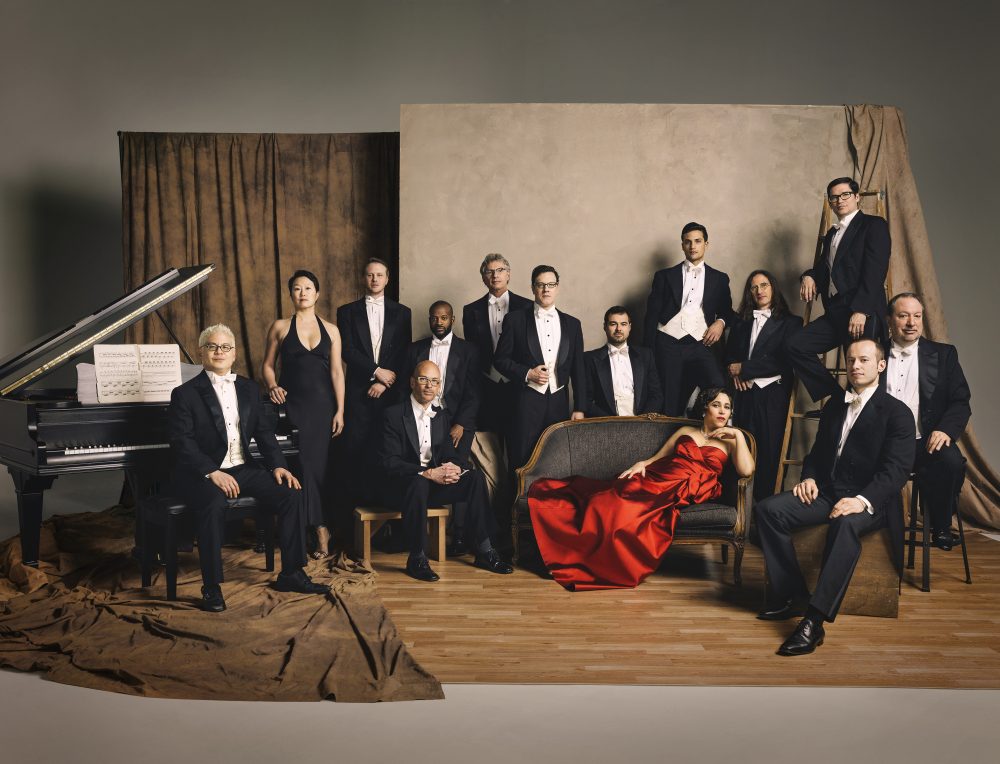 Twelve-piece ensemble Pink Martini will perform at Goshen College on Friday, Oct. 22 at 7:30 p.m. for a Performing Arts Series concert in the Music Center's Sauder Concert Hall.
Featuring vocalist China Forbes, Pink Martini explores a variety of musical styles and backgrounds in their repertoire, performing classical, Latin, big band, samba, pop and jazz music. Band leader Thomas Lauderdale describes the group as a "rollicking around-the-world musical adventure" and notes that "if the United Nations had a house band in 1962, hopefully we'd be that band."
Pink Martini was formed by Lauderdale, a classically trained pianist and budding politician, in 1994. Intending to eventually run for office, Lauderdale went to every political fundraiser under the sun… but was dismayed to find the music at these events underwhelming, lackluster, loud and un-neighborly. Drawing inspiration from music from all over the world, he founded the "little orchestra" Pink Martini, hoping to provide more beautiful and inclusive musical soundtracks for political fundraisers for causes such as civil rights, affordable housing, and education.
One year later, Lauderdale called Forbes, a Harvard classmate who was living in New York City, and asked her to join Pink Martini. They began to write songs together. Their first song – "Sympathique" (Je ne veus pas travailler) – became an overnight sensation in France, was nominated for "Song of the Year" at France's Victoires de la Musique Awards, and to this day remains a mantra ("Je ne veux pas travailler" or "I don't want to work") for striking French workers.
Since the widespread success of "Sympathique," Pink Martini has gained a national following, releasing 11 studio albums on its own independent label Heinz Records (named after Lauderdale's dog) and selling over three million albums worldwide. The band has also performed with more than 50 orchestras, including the Los Angeles Philharmonic, the Boston Pops, the Sydney Symphony, and the BBC Concert Orchestra, and has collaborated with Rita Moreno, Carol Channing, Rufus Wainwright, and other household names.
Tickets are $60, $55 or $45 and are available online at goshen.edu/tickets or at the Box Office (boxoffice@goshen.edu, 574.535.7566).
Upcoming concerts in the Performing Arts Series include:
Christmas with the King's Singers: Finding Harmony, Tuesday, December 14, 2021, 7:30 p.m. Non-package ticket pricing: $50, $45, $35
Watkins Family Hour, Friday, January 21, 2022, 7:30 p.m. Non-package ticket pricing: $40, $35, $30
An Evening with Patty Griffin, Friday, January 28, 2022, 7:30 p.m. Non-package ticket pricing: $50, $45, $35