Communication Department's FiveCore Media wins national Telly awards
The Goshen College Communication Department's Video Production company, FiveCore Media, received four Telly awards this year for their student and faculty work on projects during the year of 2020.
Goshen College received one gold Telly award and three bronze Telly awards. The four awards this year bring FiveCore Media's number of Telly awards won to a grand total of 25.
"These awards are a testament to the hard work of our Goshen College students and FiveCore staff," said Kyle Hufford, FiveCore Media executive director and associate professor of communication. "In this trying year they persevered and rose above so many challenges. We enter these awards not to pat ourselves on the back but to show our students the strength of their work and how it holds its own against professionals nationwide. Of all the awards we have won over FiveCore's ten years, the ones this year mean the most."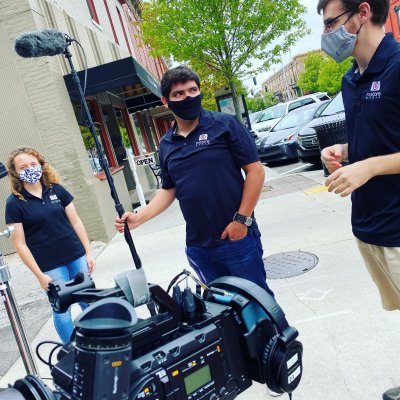 A coronavirus PSA created for Goshen College faculty, staff and students received a bronze Telly in the public service announcement category. The gold Telly was given for FiveCore Media's work on a welcome video for the River Bend Film Festival which is held annually in Goshen.
Two bronze Tellys were awarded for FiveCore Media's work for the television special of Goshen College's "A Festival of Carols 2020." The complete program was awarded as a live event, and FiveCore Media's executive director, Kyle Hufford, was also awarded for his role as a director.
In previous years when FiveCore has received Telly awards, the silver Telly has been their highest honor. However, in recent years, a more distinguished tier has been added with the gold Telly.
Awards Breakdown:
Gold Telly Award
River Bend Film Festival Welcome Video, Branded Content: Student category –

Shianne Harrison, a senior film production from Elkhart, Indiana
Eric Miller, a junior film production major from Cleveland, Ohio
Jeremiah Sherrill, a junior film production major from Higashi-Kurume, Japan
Bronze Telly Awards: 
Mask Up GC, Online Commercial: Public Service Announcement category –

Court Templeton, a sophomore film production major from St. Louis, Missouri
Kadie Spoor, a senior broadcasting major from Valparaiso, Indiana

Festival of Carols 2020, Television: Directing category and Television: Live Events category –

Kyle Hufford, executive director of FiveCore Media and associate professor of communication at Goshen College
Jackson Steinmetz, a sophomore film production major from Bluffton, Ohio
Court Templeton, a sophomore film production major from St. Louis, Missouri
Abby Shetler, producer and Goshen College class of 2015
Daniel Robles, a senior communication major from Goshen, Indiana
About the Telly Awards:
The Telly Awards is the premier award honoring video and television across all screens. Established in 1979, The Telly Awards receives over 12,000 entries from all 50 states and 5 continents. Entrants are judged by The Telly Awards Judging Council—an industry body of over 200 leading experts including advertising agencies, production companies, and major television networks, reflective of the multiscreen industry The Telly Awards celebrates. Partners of The Telly Awards include NAB, StudioDaily, Stash Magazine, and Digiday.