GC named 'Radio School of the Year' for seventh time in ten years
The Indiana Association of School Broadcasters (IASB) named 91.1 FM The Globe (WGCS) "Radio School of the Year" for the third consecutive time in the college division, with a flurry of awards in ten of 13 categories.
Fifteen Goshen College students received 24 awards at the IASB's annual event, which honors college broadcasting and multimedia programs. For the second year in a row, the awards luncheon and internship fair in Indianapolis was cancelled and schools were notified of the results via email.
This is the seventh time in ten years that 91.1 The Globe, which broadcasts 24-hour content throughout Northern Indiana and Southwestern Michigan and competes against schools statewide in an open competition, claimed the championship.
The awards recognized Globe Radio and TV staff for their work from the past year in two separate contests for radio school and television schools of the year.
In the television competition, Globe TV received two first-place awards and nine overall on their way to an impressive third-place finish behind Ball State University and Indiana University.
While The Globe received multiple first-place awards from the senior class, this was a year when first-year students made significant contributions to the competition. Three students combined to earn more awards than any other Goshen College first-year class.
Amelia Turnbull, a first-year broadcasting major from Fort Wayne, Indiana, received first-place honors for her news report on Girl Scout cookie sales during the pandemic and another top award for anchoring the best radio newscast entry. Classmate Claudia Mobley, a first year broadcasting major from Salem, Oregon, was a segment reporter on the entry as well. Turnbull also took home a second-place award along with first-year Dante Stanton, a broadcasting major from Elkhart, Indiana,  and Gabe Kermode, a junior broadcasting major from Boulder City, Nevada, for their episode of The Globe's award-winning morning show, The Breakfast Blend.
Stanton picked up two first place awards including one in the copywriting category and another as part of the broadcast team with William Troyer, a senior broadcasting major from Goshen, and Kermode for their radio sporting event broadcast of the Goshen College men's basketball game versus Lawrence Tech. In addition to his awards with Turnbull, he earned second-place honors for his news report on Goshen's Fire and Ice Festival and was a news reporter for the third-place newscast anchored by Zachariah Begly, a senior broadcasting and journalism major from Evanston, Illinois, and reporters Nathan Pauls, a senior communication and art major from Kinzers, Pennsylvania, and Gabriella Klopfenstein, a senior public relations major from Goshen.
Student station manager, Kadie Daye, a senior broadcasting major from Valparaiso, Indiana, led all students with four first-place plaques and two runner-up awards in the radio competition. She was named best air personality and her morning show, which she hosted with Troyer, Begly and Klopfenstein, was honored as best in the state. Daye's in-depth report in the 2020 election garnered first-place accolades and she stepped in as a reporter for the state's top newscast. Her second-place award in the imagining category showcased her production skills and she teamed up with Kermode to host Live From 1700, a talk show about college life.
First place in the talk show category went to Troyer for his sports show, The Wrap Up, a weekly look at local and national sports scene with guests and a host of sports reporters.
Other award winners included a second-place finish for Josh Taylor, a junior accounting major from Angola, Indiana, in the copywriting category and Jeremiah Sherrill, a junior film production major from Goshen, picked up two second-place awards for his "Alexa, Play The Globe" promo in radio spot production and he was part of the runner-up crew in the radio show category.
"In a year that's been remarkable on so many levels, our students stepped up in equally incredible ways to provide our community with entertainment, news and sports programming as good as anything heard on the radio or internet," said Jason Samuel, general manager for 91.1 The Globe. "Everyone at The Globe is expected to contribute, from first-years to seniors, and that they can do so with excellence."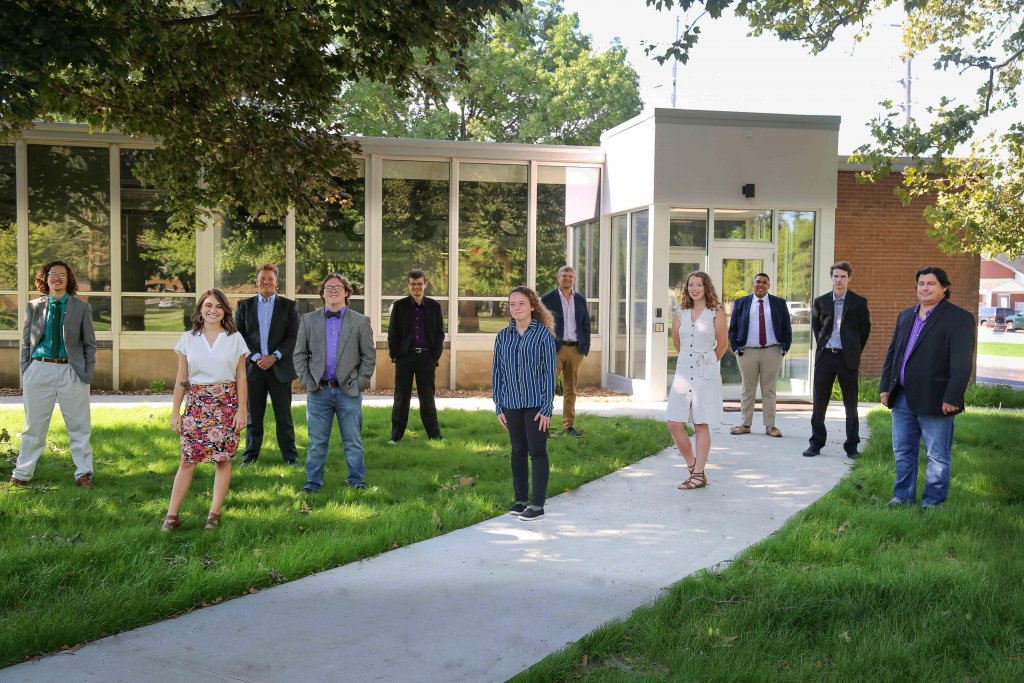 The Globe received 37 points to finish in first; Ball State University took second, with 14 points; and the University of Southern Indiana finished in third, with 12 points. This is the seventh title in the past ten years for the radio station. The most by any school since the IASB first hosted the competition in 2005.
In the TV and Video categories, Jackson Steinmetz, a sophomore communication and film production major from Bluffton, Ohio, and Daniel Robles, a senior communication major from Goshen, received first place in the television non-news/sports program category for their work on Festival of Carols. Steinmetz also earned a third-place award for motion graphics with his introduction and supporting materials for the hour long Festival of Carols program..
In the photojournalism category Daye and Klopfenstein earned first and third place honors respectively for their videography work over the last year.
Second place honors went to Augusta Nafziger, a sophomore music and writing major from Weyers Cave, Virginia, in television copywriting and Sherrill for his River Bend Film Festival welcome video in the corporate video category.
Third place awards were earned by Court Templeton, a sophomore film production and writing major from St. Louis, Missouri, in the non news/sports program  category for her work on the Elkhart Symphony winter concert special, Daye in video sound design, and Stanton for his interpretation of Elvis Costello's song, "Radio, Radio" in the music video category.
"Despite the extraordinary challenges this year our students have persevered. It is extremely gratifying to see their work recognized.", said Associate Professor of Communication and Globe TV Executive Producer, Kyle Hufford. "We have been telling the students all year if they can get through this they can do anything. These awards are further proof of that and a life lesson about how to handle adversity in both their professional and personal lives."
"The Globe staff is dedicated, and our bench runs deep," Daye said. "So many different people secured points for us in the IASB competition this year — and it shows in the point total. You can expect to see the success and drive in the Globe staff for years to come. This year's staff helped to foster a growing, inclusive environment that will continue for years, furthering the Globe's legacy."