Senior Spotlight: Kadie Daye, an unrivaled voice in college radio
By Gabriella Klopfenstein '22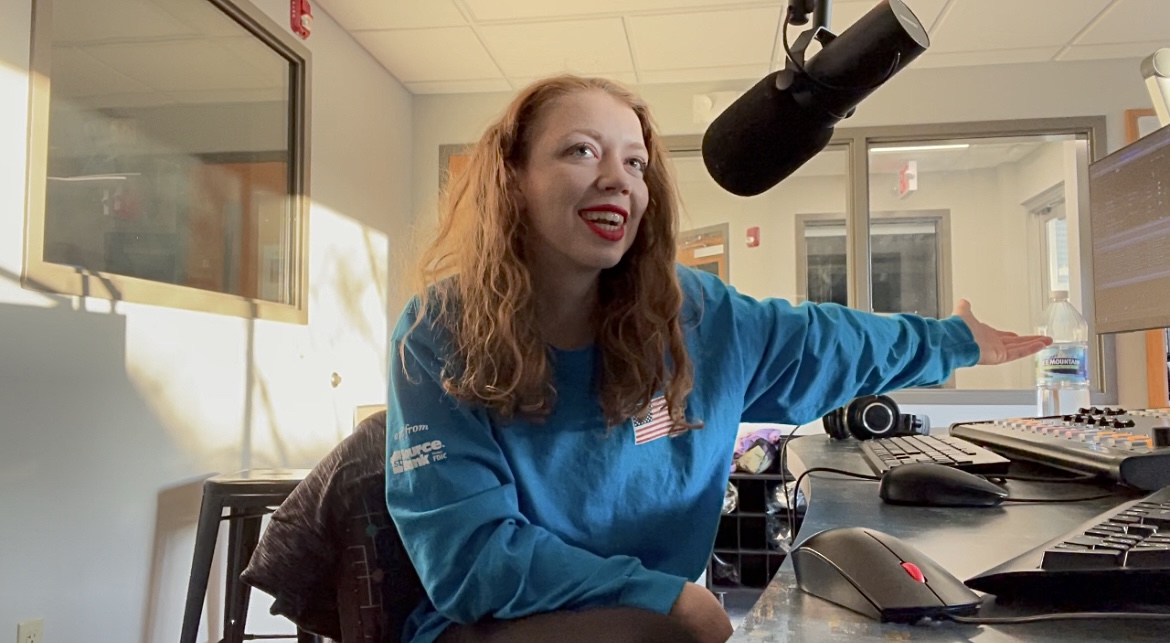 Kadie Daye, otherwise known as DJ Kadie, has been building her broadcasting legacy at Goshen College over the last four years.
She has been named Best On-Air Personality five times, twice by the Intercollegiate Broadcasting System (IBS), and once each by the Broadcast Education Association (BEA), College Broadcasters, Inc. (CBI) and Indiana Association of School Broadcasters (IASB). In March 2021, Daye won the IBS Student Management award for Best Radio Student Station Manager, and the Best of Festival at the BEA Festival of Media Arts, arguably the most prestigious college broadcasting award an individual student can win.
"It's been an historic year for her and one unlike I've ever seen any student at any school achieve," said Jason Samuel, assistant professor of communication and WGCS general manager.
This is a huge accomplishment for Daye, a broadcasting major from Valparaiso, Indiana, who graduates this weekend, a sign that her hard work has paid off.
"It's everything I have been working towards these last four years at Goshen College," Daye said. "Before I came to Goshen in the fall of 2017, I told Jason (Samuel) that I wanted to be the best DJ in the country. After a couple years of not getting it, it brought me down a little, and it's one of those things, like Jason says, sometimes you aren't rewarded with 'instant gratification,' and you have to make the conscious choice to keep pushing towards your goals or give up. Well, I definitely wasn't going to choose the latter, even in those moments of self doubt."
Daye knew she wanted to be in radio since high school, when she walked into the radio station at Valparaiso University, near her high school, and asked to be on air.
"After some convincing, I was a host on their radio station my senior year, which helped me get experience," she said.
Getting involved in the radio program at Goshen was Daye's first step to success, and she jumped in right away.
"When I first got to Goshen, I asked Jason to let me be the morning show host right away. He was sceptical, but gave me one morning slot. So, from the first week of August I was already doing radio at Goshen," Daye said.
Daye has found a variety of outlets that have allowed her to stretch herself and develop skills that she will use throughout her career. Some of her work includes creating content for The Globe's social media platforms, developing a variety of video packages for Globe TV,  producing her own YouTube channel, and she also hosts "Evenings with Kadie" every weeknight from 7 p.m. to midnight on U93 (92.9 FM) in South Bend, Indiana.
"I love making videos with my Globe pals the most. I make videos at every station I've ever worked at, and I plan to keep making videos for my entire radio career," said Daye. "The friendships and people I've met at 91.1 The Globe over the years are some of the best people I've ever met. It's a unique time to be on the air at Goshen, and I will never forget the people who made the Globe what it is today."
According to Daye, within a month of being at Goshen, Samuel drilled a saying into her mind: "Availability is the best ability."
"He taught me to say yes to things even if it meant stretching myself to the max," she said. "That's probably why I'm able to work at U93 until 2 or 3 a.m., then turn around and wake up for the Breakfast Blend on 91.1 The Globe at 4:30 a.m."
While she credits a lot of her education to the Globe, she is also very thankful to be part of the Goshen College Women's Cross Country team for her last two years.
"I am so glad that I was part of a team that wanted me to be better as a person and not just a better athlete," she said. "They taught me to believe in myself. I will always be thankful for their support and guidance."
Daye has accomplished a lot over her four years at Goshen. As she prepares to leave, she reflects on what she has been able to do.
"Someone asked me recently, 'What's your greatest accomplishment?' Most people would think, on paper, that I would say my greatest accomplishment is being named Best DJ four times in a row," said Daye. "And while I feel very honored to have earned that title, I would say that's just the tip of the iceberg. To me, the biggest accomplishment is looking back at the work and determination I put in over the years that got me to this point. It's the long work nights at The Globe, meetings with Jason for feedback, talking with other people in the industry, and the many sleepless nights I've endured to be able to host nights at U93 and still do mornings at The Globe. The awards are nice, but knowing that I did everything I could to earn them makes it even sweeter."