Students get hands-on experience vaccinating peers in on-campus clinics
Goshen College students gained valuable real-world experience and helped slow the spread of COVID-19 by administering vaccines to students and employees during a vaccination clinic the college held on campus April 1-2.
About 15 undergraduate nursing students administered vaccines, while about a dozen public health students organized, registered and scheduled follow-up appointments for those getting vaccinated.
Nursing faculty members drew up the vaccines and oversaw the process along with an emergency observer from Goshen Health to make sure everything ran smoothly as the future nurses administered the Pfizer vaccine to about 300 people during the two-day clinic.
"Our purpose is to promote the health of people and our community," said Jewel Yoder, associate professor and chair of the department of nursing. "This was an experience where nursing students could practice some clinical skills and feel that they were contributing to the greater good of our community."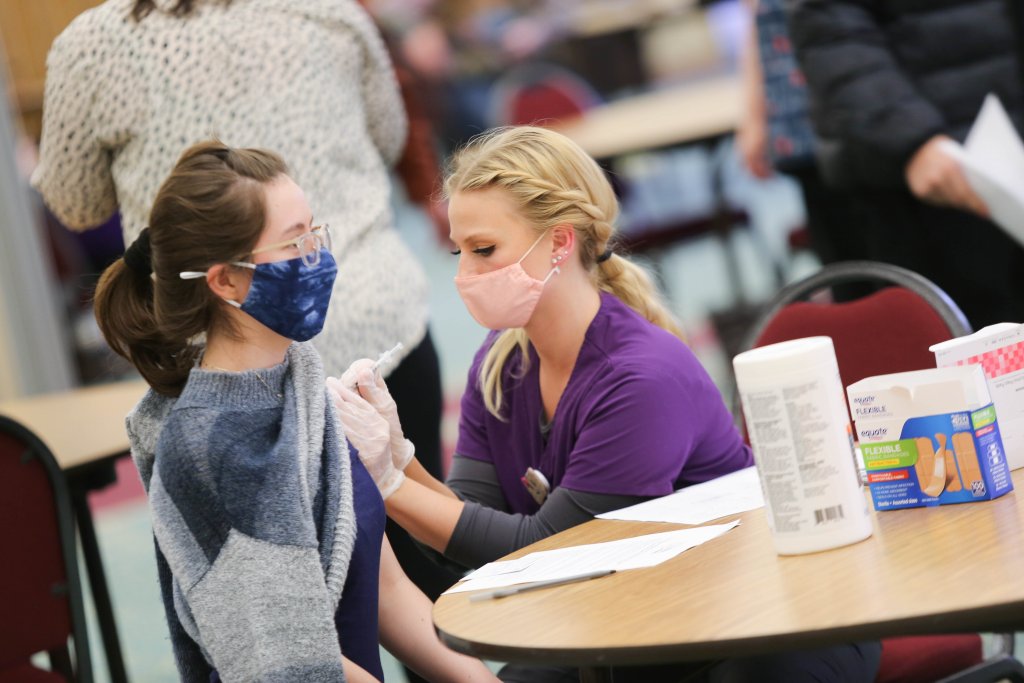 Goshen is one of the first colleges in Indiana to roll out a vaccine clinic on campus with vaccines provided by the Indiana State Department of Health for all members of campus 16 years or older. This included out-of-state and international students, and those with no insurance requirement.
"The student nurses were great, as were our public health students," said Kevin Miller, Goshen College's pandemic coordinator. "We are grateful to partner with our neighbor Goshen Health on this as well."
The college will administer the second dose of the Pfizer vaccine to campus members on April 22 and 23, before students go home for the summer.