Campus squirrels given tiny masks to stop spread of COVID-19
The Goshen College Pandemic Task Force has announced an initiative to provide and require face masks for squirrels on the college's campus in an effort to slow the spread of COVID-19.
"We tried training the squirrels to follow the Big Four, and while they've been diligent about washing their hands in the Adelphian Fountain and daily self-screening, ever since they started frolicking around campus again this spring they're having a little trouble with appropriate physical distancing," said Jodi Beyeler, vice president for communications and people/squirrel strategy, and official spokesperson for the Pandemic Task Force. "We also recommend campus members complete a non-compliance form to report specific problematic squirrels so we can follow-up with them, because they need to be reminded that 'we are all in this together' includes them too."
The squirrel-sized masks are being sewn by volunteer retired faculty and are available for squirrels to pick up at distribution points by all maple trees on campus.
The Goshen College campus is home to approximately 75 residential squirrels and about 25 more who commute from nearby trees.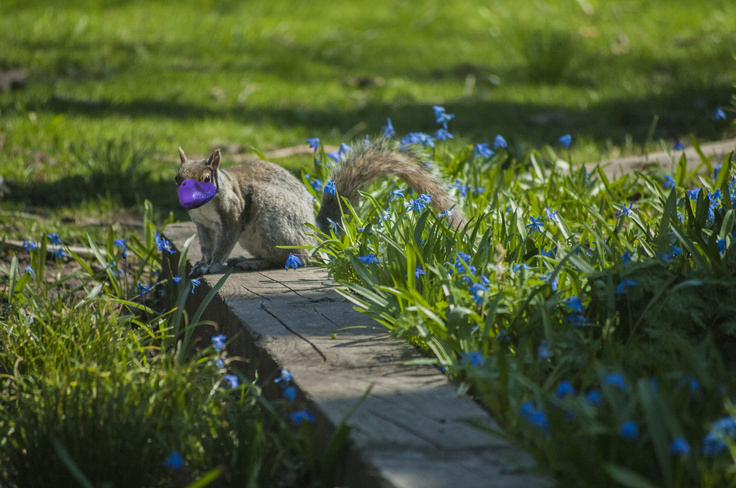 Students have expressed support and relief that the animals will now be following COVID guidelines, though some have requested that the Pandemic Task Force consider including them in mandatory weekly COVID-19 testing clinics and would like the daily data dashboard to include special tracking of positive squirrel cases.
"At first, when I'd be sitting on the lawn eating lunch from my green to-go box, the squirrels were not staying six feet away. At least now I feel a little safer when they're trying to nab my meal," said Chip Sciuridae, a junior cargo ship logistics major from Goshen.
We hope you enjoyed today's April Fools Day story! If you'd like to learn more about GC's actual COVID-19 response and updates, visit www.goshen.edu/coronavirus.