Alumni Virtual Meetup: Becca Fenton Friesen '09 on innovation technology
When: Wednesday, March 3 from 4-5 p.m.
Where: on Zoom
Want to attend? RSVP to Career Networks careers@goshen.edu to receive a calendar invite with Zoom link.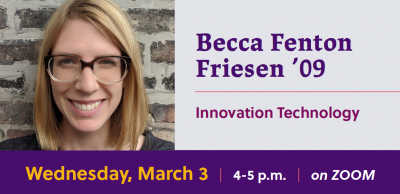 Becca graduated from Goshen College in 2009 with a degree in Physics, as well as several years of well-rounded experience with the GC orchestra, SST in Germany, art classes, a math minor and half an english minor. Afterwards, she moved to Chicago to work as a technician in fellow GC alum Lee Miller's laboratory researching brain machine interfaces. This work introduced her to the complexities of how our brains control the movement of our bodies, as well as how our sense of touch and proprioception makes this control possible.
She returned to graduate school in Mechanical Engineering at Northwestern University in 2013, where she studied the design and use of haptic interfaces. Haptics refers to technology that creates tactile sensations, and Becca's research focused on building touchscreens that can create the illusion of touching a textured surface. She currently works as a postdoctoral researcher at Delft University of Technology in the Netherlands, developing wearable haptic actuators for use in touch interactions in augmented reality.
---
Alumni Virtual Meetups are powerful networking events where professional GC alums share their career journeys, experiences and advice with students. These sessions will take place on Zoom and are open to all students. Great prize giveaways are part of each one of these events.
This event is presented by Career Networks and the Goshen College Alumni Council.