WGCS snags 29 award nominations from Intercollegiate Broadcasting System
Goshen College's student-run radio station,  91.1 FM (WGCS) The Globe has been nominated for Best Station in the Nation for the 11th consecutive year by the Intercollegiate Broadcasting System (IBS), along with 29 individual nominations, more than any other school in the competition.
Winners will be announced at the 81st annual IBS conference in March.
"I'm so proud of everyone at the Globe for doing so well, individually and collectively, " said Kadie Daye, a senior and WGCS student station manager. "Out of my four years here, I think these nominations are the most widespread. Normally a select few people receive a nomination or two, but this year, it really feels like everyone was a playmaker at WGCS."
It was an incredibly challenging year for the station, with WGCS losing most of its staff last March and April when students left campus due to COVID-19. During that time, the station moved from its home of sixty years on the second floor of the Union Building to their new studio in the new Center for Communication Studies in the Newcomer Building, where students settled into last fall.
"Broadcasting doesn't shut down during a pandemic. In fact, it becomes more important to the community," said Jason Samuel, assistant professor of communication and general manager of 91.1 The Globe. "I know I speak for my colleagues and our department when I say how impressed we are with the level of quality content and dedication our students demonstrated over the past year. Even with all the challenges brought on by the pandemic they continued their commitment to excellence in the classroom and behind the microphone. I'm especially proud of our leadership team. They bonded quickly and adopted a servant leadership mentality that became the foundation for our success."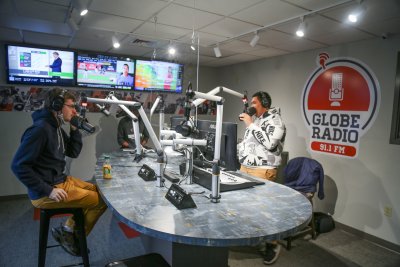 Finalists for the IBS Awards include:
Kadie Daye, senior broadcasting major from Valparaiso, Indiana, is nominated for Best On-Air Personality, Best Morning Show, Best Video Comedy Program, Best Variety Program and Best TV Station Promotion.
Nathan Pauls, senior communication major from Lancester, Pennsylvania, is nominated for Best Station Contest/Promotional Event and Best Video News Report.
William Troyer, a senior broadcasting major from Goshen, is nominated for Best Sports Play-by-Play (Other), Best Sports Update, Best Video Sports Report (with Gabriella Klopfenstein, 2022), Best Sports Pregame/Postgame Show (with Dante Stanton, 2024, and Gabe Kermode, a junior broadcasting major from Las Vegas, Nevada) and Best Video Sports Program (with Alyson Prigge, 2020 graduate).
Zack Begly, a senior broadcasting major from Evanston, Illinois, is nominated for Best Sports Interview, Best Spot News Coverage, Best News Promotion, and Best Political News Coverage (with Nathan Pauls, 2021, and Amelia Turnbull, a first-year broadcasting major from Fort Wayne, Indiana).
Gabriella Klopfenstein, a public relations major from Goshen, is nominated for Best Show Promotional Poster, Best Community Outreach Event and Best Press Release.
Jeremiah Sherrill, junior broadcasting major from Goshen, is nominated for Best Public Service Announcement and Best Use of Sound Effects.
Dante Stanton, a first-year broadcasting major from Dunlap, Indiana, is nominated for Best Comedy Program and Best Station Contest/Promotional Event.
Jim Fisher, a community volunteer, is nominated for Best Community Volunteer Program.
Globe Staff is nominated for Best Use of Social Media, Best Giveaway and Best Logo.
FiveCore Media is nominated for Best TV Station On-Air Promotion.
Len Mailloux IBS Student Management Awards Nominees:
Kadie Daye, Best Student Station Manager, Radio
Nathan Pauls, Best Program Director, Radio
Zachariah Begly, Best News Director, Radio 
About the Intercollegiate Broadcasting Systems Awards:
An organization with a membership of over one thousand non-profit, education-affiliated radio stations and webcasters. Founded in 1940, IBS is headquartered in New Windsor, New York, with a legal office in Washington, D.C. In addition to providing support for establishing and operating noncommercial radio and webcast operations, it frequently represents its members with FCC negotiations, copyright issues, and litigation.
The Goshen College Communication Department has been recognized in the state and nation for its excellence in broadcasting, journalism, speech, film production and writing. The department has been named Indiana TV and Radio school of the year multiple times, Best College Radio station in the nation twice, Indiana Broadcasters Association Best Radio Station, Best College Newspaper in the state and many more. Students from Goshen College's Communication Program get hands-on learning opportunities with the department's co-curriculars like, The Record, PRSSA, WGCS 91.1 The Globe, FiveCore Media and Globe TV. To learn more visit www.goshen.edu/communication – www.globeradio.org – www.fivecoremedia.com