Dayna Baxter '18 pilots program to pair social workers with law enforcement in her community
By Gabriella Klopfenstein '22 
Dayna Baxter, a 2018 graduate of Goshen College with a degree in social work, is behind a new program that will pair social workers with law enforcement to support victims of domestic violence in South Bend, Indiana.
"I came to a realization that many St. Joseph County victims, especially those who were at high risk for lethality or were actually killed by their partners, were not connected to victim services early enough, if at all," Baxter said. "Many times, I would work with a survivor weeks or months after they reported the abuse to the police and some victims never took action past the initial police call. As a result, I began researching programs that housed social workers with law enforcement and planning a new program to close the gap in services."
In January 2020, she pitched her idea to Sheriff Bill Redman of the St. Joseph County Police Department (SJCPD). He immediately agreed to partner with Dayna and the Family Justice Center, the non-profit that Dayna works for, to seek funding and allow her to pilot the program in his department.
Just nine months later, in October 2020, SJCPD was awarded the $407,000 federal grant to create the SJCPD Domestic Violence Incident Response and Support Team.
Through this grant, Baxter is now able to respond to domestic violence calls along with a county police officer. Baxter's role is the Victim Services Supervisor, but she will also deliver direct services.
Their team has many goals for this plan.
First, they want to be able to connect victims to supportive services within hours of an incident, and increase offender accountability by improving community relations.
Another goal is to improve victim services by offering crisis intervention.
Baxter's team will also train law enforcement on a number of topics including trauma informed strategies to better serve survivors of domestic violence.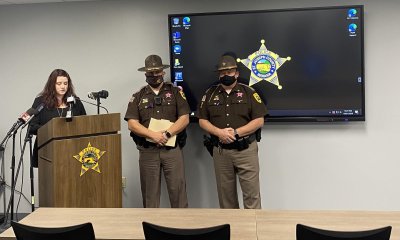 Baxter credits her education at Goshen College with helping prepare her well for this significant initiative.
"My experience at Goshen College undoubtedly set me on the path to developing this new program," Baxter said.
During her social work senior seminar class, a social worker who specializes in working with first responders and crisis incidents made a presentation. Learning about her role piqued Baxter's interest in crisis intervention.
"The professors and advisors of the Goshen social work program provided support throughout my undergraduate journey and have continued to provide support, recommendations and praise since I graduated in 2018," Baxter said.
Lastly, she noted that the expectations from the Goshen College social work program helped develop her professional writing abilities, which served her well as she wrote the grant proposal.
Baxter finds her work rewarding in many ways, including the opportunity to support survivors through a difficult process.
"The criminal justice system is broken in many ways and I stay motivated by knowing that I can advocate for survivors," Baxter said.