Paintings by Emma Schrock on display beginning March 1
Due to Covid-19, the Goshen College Library, and therefore this exhibit, is closed to the public.
GC Employees and students, please practice social distancing & excellent hygiene while using the facility.
---
Art Exhibit: Paintings by Emma Schrock (1924-91): The Doug Grant Collection
On Display: March 1 through May 31, 2020
Reception: Sunday, March 8 from 2-4 p.m.
Location: Good Library Art Gallery
Cost: Free and open to the public
---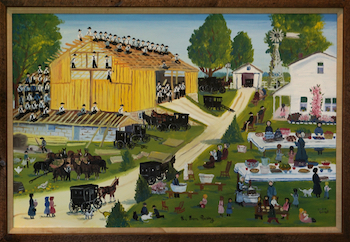 An exhibit of work featuring artist Emma Schrock, a popular artist who painted her experience as a member of the Old Order Mennonite community in western Elkhart County, will be on display in the Good Library Gallery at Goshen College, from March 1 through May 31, with a public reception on March 8 from 2-4 p.m.. The exhibit and reception are free and open to the public.
The exhibit features 45 paintings borrowed from the collection of Doug Grant of Syracuse, Indiana, retired CEO of Lake City Bank. Purchased over many years, the collection includes one made in 1965 and others from throughout her painting career.
Schrock, known locally as the "Grandma Moses of Elkhart County," taught herself to paint as an adult by studying one of Connie Gordon's popular how-to-paint books. It is estimated that she made over 2,000 paintings in her lifetime. She painted pictures depicting scenes of typical conservative communities: one-room schools, barn raisings, and quilting activities.
In satisfying the market, she sometimes made seven paintings a week, and eventually made lithograph copies, which she signed in pencil. Physically handicapped, she earned her living by working at home, painting and greeting customers.
The exhibit will also include a new quilt that uses one of her paintings, "Airing the Quilts," at the center of its design, borrowed from an anonymous collector.