Alumna Katie Sowers '09 will make coaching history at the Super Bowl
Katie Sowers '09 is making history as the first female and first openly-gay person to coach in a Super Bowl. She'll be on the sidelines as an offensive assistant coach with the San Francisco 49ers when they play the Kansas City Chiefs on Sunday, Feb. 2 in Super Bowl LIV.
Her journey has taken her from the Maple Leafs athletic fields and courts to one of the biggest stages in sports. Sowers, who transferred from Hesston (Kansas) College, competed in basketball, soccer and track & field at Goshen College between 2006-2009. She has noted publicly that she was once denied a volunteer assistant coaching position at GC because of her sexual orientation.
Goshen College President Rebecca Stoltzfus has released the following statement:
---
We are very proud of all that our alumna Katie Sowers '09, an assistant coach for the Super Bowl-bound San Francisco 49ers, has achieved in her life and the ways that she leads on and off the football field with authenticity, grace and excellence. She has publicly shared her journey to coaching, including the barriers she faced related to her sexual orientation when seeking a volunteer coaching position at Goshen College. Sadly, in 2009, our policies and the laws of Indiana allowed for hiring decisions to consider sexual orientation. I am glad that Goshen College adopted a new non-discrimination policy in 2015, and I am thankful for the leaders before me who brought this change about, not the least of whom were our students and alumni.
Our new vision states: "Being rooted in the way of Jesus, we will seek inclusive community and transformative justice in all that we do." While we cannot go back and change history, justice calls us to stand up now and say that the way Goshen College treated Katie's offer to coach was hurtful and wrong. I express on behalf of the institution our profound apologies to Katie Sowers and to all others who have not been welcomed here, simply because of who they are. And I want to personally thank all of our students, employees and alumni who call us to be and do better.
Goshen College President Rebecca Stoltzfus
---
UPDATE (1/26/20): Katie Sowers responded to the apology publicly in speaking with NBC Sports Bay Area. She said:
"I loved my time at Goshen and I love everything Goshen College represents. This moment was tough, but the reality is we all experience rejection and adversity in our lives.

"When, not if, we go through these moments of adversity, we can view them as road blocks and feel sorry for ourselves or we can view them as a part of our story. I prefer to see what happened to me as a detour that put me on a path to where I am now."
---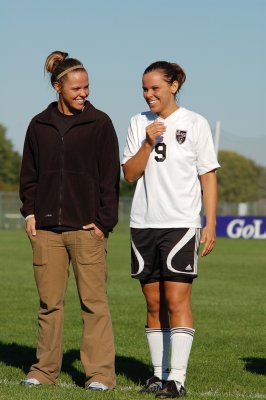 "No matter what you do in life, one of the most important things is to be true to who you are," Sowers stated in an interview with OutSports. "The more we can create an environment that welcomes all types of people, no matter their race, gender, sexual orientation, religion, the more we can help ease the pain and burden that many carry every day."
Dr. Jewel Lehman, professor of kinesiology, remembers Sowers as a strong, dedicated student and an amazing all-around athlete.
"In a recommendation letter I described Katie as 'intelligent, inquisitive and energetic.'" Lehman said. "She was always engaged and offering insightful comments during discussions. She was passionate about athletics and had a drive to succeed."
Sowers graduated in May 2009 with a degree in physical education. She was an NAIA scholar-athlete all three years and holds the GC record for javelin throw, the sport in which she traveled to nationals in 2008 and 2009.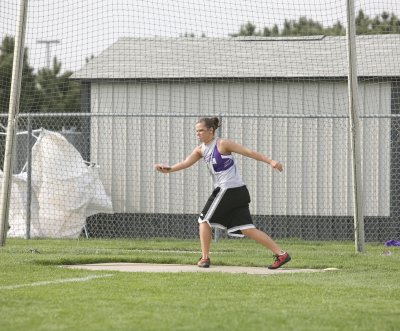 "Two things have impressed me about Katie," Lehman said. "First is how good she is at coaching, communicating and relating with and motivating some of the best receivers in the NFL. She would not have gotten this job and still be in it if she wasn't excellent at what she does. Additionally, her positive persistence is amazing. Not everyone has this ability. The coaching opportunities in the NFL did not happen for her overnight or by chance – she was able to make a way into this new territory by being really good at her job, being positively persistent in the face of challenge."
As a kid, Sowers loved playing football with her friends and family, but excelled at other sports throughout school, when football was not an option. After graduation, she returned to football with the Women's Football Alliance, first playing for the West Michigan Mayhem and later the Kansas City Titans. She played for the United States Women's National American Football Team, along with her twin sister Liz, that won the 2013 International Federation of American Football Women's World Championship, and was named MVP.
She left the Titans in 2016 following an injury, and had the opportunity to coach in the East-West Shrine Football Game in St. Petersburg, Florida, an all-star game for the best college football players in the country. There, she impressed the right people and was offered an internship with the Atlanta Falcons, working with the wide receivers.
The next year she took the assistant coach position with the 49ers, and became the second woman to hold a coaching position in the NFL.
"My long term goal is to be a head coach and then move on to executive management," Sowers said in a 2016 interview with Hesston College. "It's not a typical path, but then again, nothing about what I'm doing is typical."