Artist, photographer Wayne Martin Belger to speak about his unique style as Goshen College visiting artist
Visiting Artist: Wayne Martin Belger, Eric Yake Kenagy Visiting Artist
Public Lecture: Tuesday, Oct. 22, 7 p.m., Umble Center
Reception: Tuesday, Oct. 22, 8 p.m. Umble Center, Yost Room
Location: Umble Center
---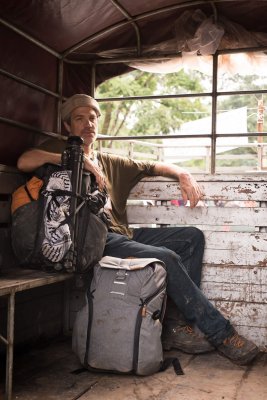 What happens when you combine experience as a professional treasure hunter, a child recovery specialist, being the mascot for two different NHL Hockey teams, and being a licensed manicurist? Answer: you get extraordinary artist and photographer Wayne Martin Belger, the 2019 Eric Yake Kenagy Visiting Artist
Belger will speak about his work during a public artists talk titled "Borderlands" on Tuesday, Oct. 22, at 7 p.m. in the Umble Center, followed by a reception at 8 p.m. These events are free and open to the public.
He will also speak during a convocation on Wednesday, Oct. 23, at 10 a.m. in the Church-Chapel. His speech is titled "The Dispossessed."
Belger's work is exploratory, inclusive and deeply human. Mainly project-based, Belger first crafts his own unique, sculptural cameras for each project, and then travels the world in pursuit of people and situations that have a story to tell through photographs. The cameras are Belger's entry point into each project, allowing him to contemplate and create a functional, symbol-rich sculpture to inform a particular topic. The cameras then become his point of introduction to those he photographs, linking photographer with those photographed in ways most photographers avoid. The end results are photographs that are beautiful, haunting, empowering and very human. Projects have focused on a variety of topics, including "The Untouchables," about living with HIV, and "Us & Them" about the myths spun by the political and social power brokers.
Belger's photographs have been exhibited widely, including at the Eastman Museum of Film and Photography and the Rochester Institute of Technology Bevier Gallery. One of Belger's projects was supported by the Smithsonian, and his photographs featured in Smithsonian Magazine (July 2018).
The Hershberger Art Gallery is located in the north lobby of the Goshen College Music Center at College Avenue and 12th Street in Goshen, Indiana and is open on weekdays from 9 a.m. – 4:30 p.m.
The Eric Yake Kenagy Visiting Artist Program honors the late Eric Yake Kenagy, who was a gifted ceramics student at Goshen College from 1984 until his death in 1986.