'Innovative' and 'inspiring' Cirque Mechanics to perform at Goshen College Oct. 1
Performing Arts Series: Cirque Mechanics
Date and Time: Tuesday, Oct. 1, 2019, 7:30 p.m.
Location: Goshen College Music Center's Sauder Concert Hall
Tickets: $40, $35, $30. Tickets available online at goshen.edu/tickets or at the Box Office (boxoffice@goshen.edu, 574.535.7566).
---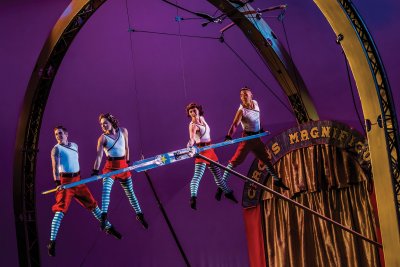 Hailed by Spectacle Magazine as "the greatest contribution to the American circus since Cirque du Soleil," Cirque Mechanics are bringing their awe-inspiring acrobatics to Goshen College on Oct. 1 at 7:30 p.m.
Cirque Mechanics finds its roots in the mechanical and its heart in the stories of American ingenuity. Their shows, rooted in realism, display a certain rawness that is rare in modern circus, making their message timeless and relevant. The stories within the show feature circus acrobatics, mechanical wonders, plus a bit of clowning around.
Cirque Mechanics was founded in 2004 by Boston native and German Wheel artist, Chris Lashua, who had previously worked with the Circus Center of San Francisco. With its inspiring and innovative approach to performance, Cirque Mechanics quickly established itself as a premier American circus troupe. The machines used in their shows showcase the relationships between the acrobatic and mechanical worlds.
The latest invention from Cirque Mechanics is named "42FT - A Menagerie of Mechanical Marvels." In this show, the company invites audiences to leap into the circus ring and experience the evolving art form. Combining unique mechanical interpretation of the traditional and lore of the historic one-ring circus, the show creates a welcoming place where people can be amazed. 42FT is packed with theatricality, showcasing such wonders as a galloping mechanical metal horse and a rotating tent frame for strongmen, acrobats and aeralists.
In addition to Lashua, other members of Cirque Mechanics include co-director and choreographer Aloysia Gavre, a co-founder of Cirque School L.A., and writer and artist Steven Ragatz, who performed for ten years with Cirque du Soleil and has appeared on The Tonight Show with Jay Leno, The Rosie O'Donnell Show and The Today Show.
Tickets for this performance are $40, $35 and $30. They can be purchased online at goshen.edu/tickets or at the Box Office (boxoffice@goshen.edu. 574.535.7566).