Goshen College experiences 26-year high for giving toward GC Fund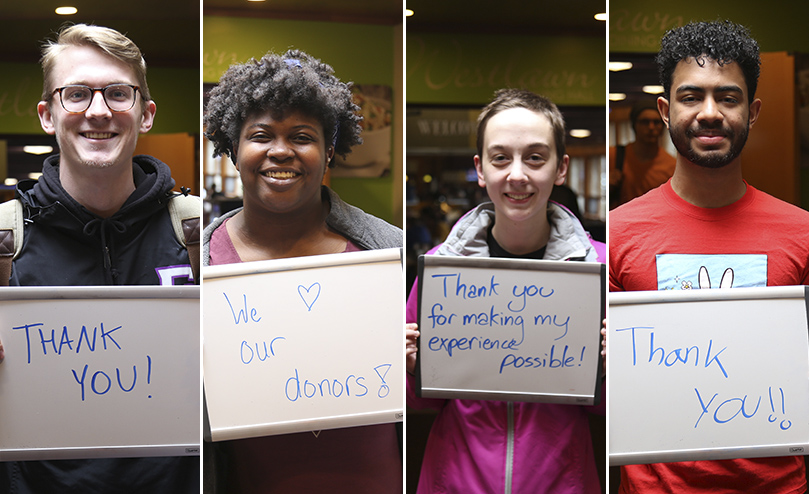 Donors to Goshen College contributed nearly $2.2 million to the Goshen College Fund during the 2018-19 fiscal year, a 26-year high. At the close of the fiscal year on June 30, the Goshen College Fund had received $2,190,763, a 14.8 percent increase in unrestricted giving for the GC Fund over last year.
The Goshen College Fund receives annual gifts that directly impact the student experience at Goshen College, including life-changing scholarships, student services for academic success, and distinctive programming like immersive international education during the Study-Service Term and at the student-run Globe Radio.
Overall giving to Goshen College totaled $4,874,781, which combines both unrestricted and designated giving.
"Our donors play an important role in supporting our mission and providing amazing opportunities for our students," said President Rebecca Stoltzfus. "Through their support, we are able to prepare students to thrive in life, leadership and service through an affordable educational experience." Last year Goshen College awarded more than $13 million in student aid, helping maintain affordability at the college which is routinely listed among the best value private colleges in the Midwest.
Donors to Goshen College include alumni, friends, parents, businesses, organizations, churches and foundations. This past year, 65 percent of the dollars raised among these groups came from alumni, who provided the highest level of financial support with donations totaling $3,776,269.
"We are thankful for the many generous alumni and friends who are so supportive of Goshen College," said Vice President for Institutional Advancement Todd Yoder. "Every gift makes a difference."
Although the giving period for 2018-19 has come to a close, the Goshen College Development Office is already working toward its goal for the 2019-20 fiscal year. To contact the office to donate or request more information, visit goshen.edu/give, or call the advancement office  at (574) 535-7565.