Individual tickets on sale Aug. 6 for the 2019-20 Goshen College Performing Arts Series
Beginning Tuesday, Aug. 6, concertgoers have the opportunity to purchase individual tickets for all concerts in the Goshen College Performing Arts Series. Individual tickets will be on sale online at goshen.edu/tickets and at the Goshen College Box Office at the Music Center. Limited season package tickets are also available.
For further information about ticket availability, prices, reservations or more information, contact the Goshen College Box Office at (574) 535-7566 or email boxoffice@goshen.edu. The Box Office, located in the Goshen College Music Center, is open for business from 8 a.m. to 5 p.m. Monday through Friday.
The 2019-20 line-up:
Mariachi Herencia de Mexico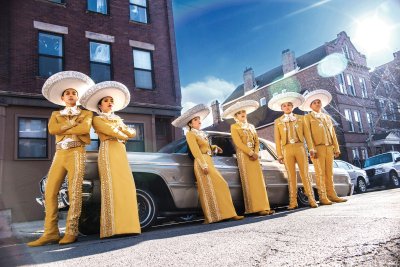 Friday, September 13, 2019, 7:30 p.m.
Non-package ticket pricing: $30, $25, $20
No one could have anticipated the success of the first album by Mariachi Herencia de México, an ensemble of student musicians from Chicago's Mexican-American barrios. Released in 2017, their debut disk Nuestra Herencia (Our Heritage) received a Latin Grammy Award nomination, attracted local and national news coverage, and created new demand for appearances around the country. Since then, the group has performed in major mariachi festivals in Chicago, Orlando, Los Angeles, Santa Barbara, Mexico's mariachi capital, Guadalajara, and has made debut performances at the Kennedy Center in Washington, D.C. and Joe's Pub in New York City.
---
Bruce Cockburn
Tuesday, September 24, 2019, 7:30 p.m.
Non-package ticket pricing: $40, $35, $30
Few recording artists are as creative and prolific as the 13-time Juno winner and Canadian Music Hall of Famer Bruce Cockburn. Since his self-titled debut in 1970, the Canadian singer-songwriter has issued a steady stream of acclaimed albums. His song styles range from folk to jazz-influenced rock and his lyrics cover a broad range of topics including human rights, environmental issues, politics, and Christianity. More than forty years after embarking on his singer-songwriting career, Cockburn keeps kicking at the darkness so that it might bleed daylight.
---
Cirque Mechanics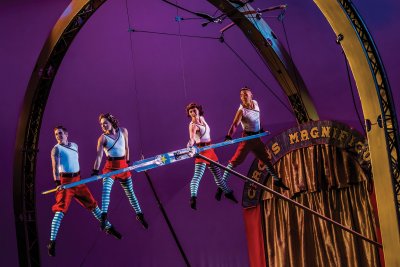 Tuesday, October 1, 2019, 7:30 p.m.
Non-package ticket pricing: $40, $35, $30
Spectacle Magazine hailed Cirque Mechanics as "the greatest contribution to the American circus since Cirque du Soleil". Although inspired by modern circus, Cirque Mechanics finds its roots in the mechanical and its heart in the stories of American ingenuity. The shows, rooted in realism, display a raw quality rarely found in modern circus that makes their message timeless and relevant. The stories are wrapped in circus acrobatics, mechanical wonders and a bit of clowning around. 42FT – A Menagerie of Mechanical Marvels, is the latest invention from the creative minds of Cirque Mechanics. The company dares us to leap into the circus ring and experience the timelessness of this evolving art form. The shows' unique mechanical interpretation of the traditional, and its story full of the lore of the historic one-ring circus create a welcoming place, like a big top, where we can be amazed. The action in 42FT is full of theatricality with a modern sensibility, showcasing a galloping mechanical metal horse and a rotating tent frame for strongmen, acrobats, and aerialists.
---
Preservation Hall Jazz Band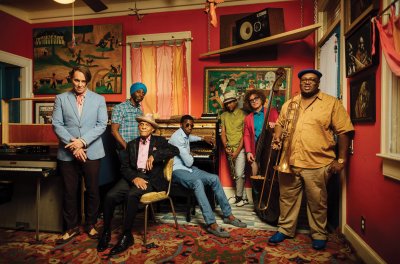 Saturday, November 2, 2019, 7:30 p.m.
Non-package ticket pricing: $45, $40, $30
The Preservation Hall Jazz Band has held the torch of New Orleans music aloft for more than 50 years, all the while carrying it enthusiastically forward as a reminder that the history they were founded to preserve is a vibrantly living history. PHJB marches that tradition forward once again on So It Is, the septet's second release featuring all-new original music. The album redefines what New Orleans music means in 2017 by tapping into a sonic continuum that stretches back to the city's Afro-Cuban roots, through its common ancestry with the Afrobeat of Fela Kuti and the Fire Music of Pharoah Sanders and John Coltrane, and forward to cutting-edge artists with whom the PHJB have shared festival stages from Coachella to Newport.  These include legends like Stevie Wonder, Elvis Costello, and the Grateful Dead and modern giants like My Morning Jacket, Arcade Fire, and the Black Keys.
---
Seraphic Fire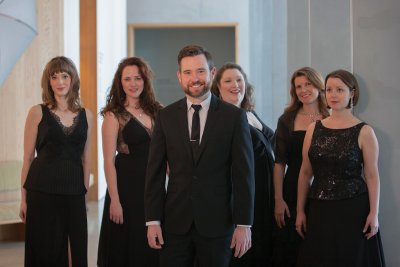 Tuesday, November 12, 2019, 7:30 p.m.
Non-package ticket pricing: $35, $30, $25
Grammy-nominated Seraphic Fire makes their return appearance to Sauder Concert Hall for a performance and to record their latest project. The Miami-based vocal ensemble will perform Ordo Virtutum, or "Play of the Virtues," a medieval musical drama written by the 12th-century abbess Hildegard of Bingen, universally revered as one of the greatest minds of the Middle Ages. Told in Hildegard's haunting plainchant compositions, the "Soul" struggles between the pull of the Virtues and the Devil, and features a cast including Mercy, Victory, Patience, Discretion and Charity. The women of Seraphic Fire bring this nearly millennia-old masterpiece back to life.
---
The Vienna Boys Choir: Christmas in Vienna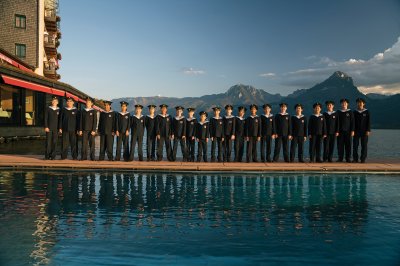 Sunday, December 1, 2019, 7:30 p.m.
Non-package ticket pricing: $45, $40, $30
The world's most beloved boys choir, The Vienna Boys Choir, will be returning to Sauder Concert Hall capturing the wonder and magic of the holiday season with their program Christmas in Vienna. This illustrious group of child musicians has been delighting music lovers across the globe for six centuries with their purity of tone, distinctive charm, and popular repertoire. Christmas in Vienna showcases these gifted musicians with voices of unforgettable beauty in an extraordinary program featuring Austrian folk songs, classical masterpieces, popular songs and, of course, holiday favorites.
---
The Wailin' Jennys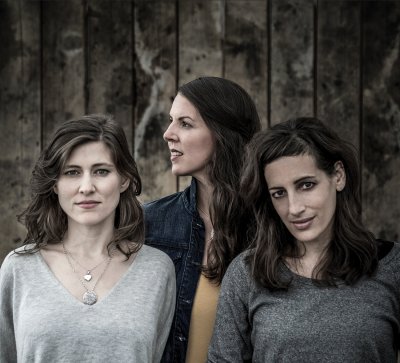 Friday, January 31, 2020, 7:30 p.m.
Non-package ticket pricing: $50, $45, $35
Back in Goshen by popular demand with new songs from their upcoming album, Nicky Mehta, Ruth Moody, and Heather Masse bring three distinct voices that together make the achingly perfect vocal sound of the Juno award-winning Wailin' Jennys. With beautiful, heart-stopping harmonies, uplifting repertoire and engaging stage presence, the Wailin' Jennys have delighted and charmed audiences for more than a decade. Their acoustic blend of bluegrass, folk and roots music has been featured alongside Bonnie Raitt and Rosanne Cash. Together they forge a unified folk-pop sound — all delivered with the irresistible vocal power of three.
---
National Symphony Orchestra of Ukraine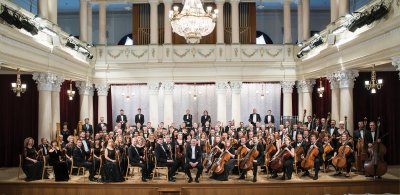 Friday, February 28, 2020, 7:30 p.m.
Non-package ticket pricing: $45, $40, $30
Formed in 1918 and conducted by Volodymyr Sirenko, the 95-member National Symphony Orchestra of Ukraine is considered one of the finest symphony orchestras in Eastern Europe, with multiple Grammy Award nominations. This distinguished ensemble will display its brilliance, warmth and expressive versatility in splendid program that will feature Ukranian Cellist Natalia Khoma performing Tchaikovsky's "Rococo" Variations for cello, Dvorak's Symphony No. 7 and "Grazhyna" Symphonic Ballade by Ukranian composer Borys Lyatoshynsky.
---
Che Apalache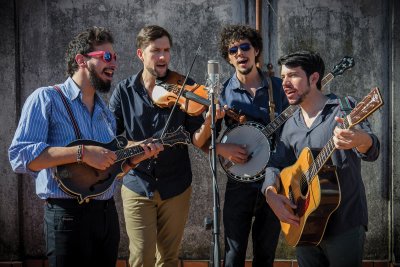 Friday, March 13, 2020, 7:30 p.m.
Non-package ticket pricing: $30, $25, $20
Argentina-based four-man string band Che Apalache combines instrumental prowess with tight vocal harmonies to create an authentic blend of bluegrass and Latin American genres, evoking images from Appalachia to the Andes. Their debut album, "Latingrass," is a testament to a powerful cultural and musical exchange. With members from Argentina, Mexico and the United States, the group's founder Joe Troop (fiddle) is a North Carolinian multi-instrumentalist, singer-songwriter and composer who moved to Argentina in 2010. There, he met his future compatriots — Pau Barjau (banjo), Franco Martino (guitar), and Martin Bobrik (mandolin) who make up Che Apalache. In 2017, the band received grants from the North Carolina Humanities Council and the Virginia Foundation for the Humanities to tour the United States, and were awarded first place in the Neo-Traditional band competition at the Appalachian String Band Music Festival in Clifftop, West Virginia. Their second album will be produced by 16-time Grammy Award winning banjoist Béla Fleck.
---
The Kingdom Choir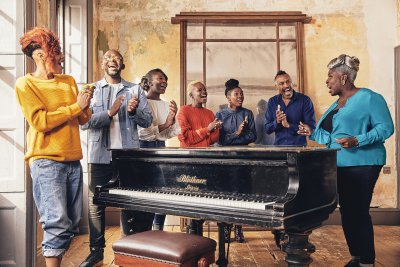 Sunday, April 19, 2020, 7:30 p.m.
Non-package ticket pricing: $40, $35, $25
London's The Kingdom Choir™ is best known for their show-stopping performance at the Royal Wedding of Prince Harry and Meghan Markle. The group's performance of Stand By Me, seen by a global audience of over two billion, instantly catapulted the choir to worldwide fame. Founded in 1994 by award-winning conductor Karen Gibson, the choir draws from various Christian traditions and is dedicated to creating a sound that reflects the community they share through their warm energy and enthusiastic performances. The Choir released their first full-length album in November 2018.
---
This year's regular season ticket package again includes six concerts:
Four core performances are set for each season ticket (The Vienna Boys Choir, Wailin' Jennys, National Symphony Orchestra of Ukraine and The Kingdom Choir).
Choose two or more additional performances from the remaining choices. The more performances chosen, the bigger the discount on the season ticket package. (Seven or eight performances receives a $20 discount; 9 or 10 performances receives a $30 discount)
Each season ticket requires a $25 non-refundable deposit to hold the seats. Full payment is due Friday, June 14, 2019.
We suggest submitting season ticket orders as soon as possible to get seating in the preferred area with the same seat for each concert. Current season ticket holders will receive priority seating if they return their order form before Monday, May 27.
Individual concert tickets will go on sale Tuesday, August 6, 2018.