Goshen College receives Community Foundation grant to recruit, retain diverse Elkhart County teachers
The Community Foundation of Elkhart County awarded a grant of $57,000 to Goshen College for the education department to recruit and retain diverse teachers from Elkhart County over the next two years.
The grant is part of the Community Foundation's $2,294,069 investment in more than 50 Elkhart County nonprofit organizations through multi-year grants.
With this grant, Goshen College will partner with Elkhart Community Schools, Goshen Community Schools, Concord Community Schools and Bethany Christian School to train and mentor their graduates who are interested in teaching careers, especially those who are underrepresented in teacher education, and provide mentoring and financial bonuses for those who teach in Elkhart County after graduation.
"There is a teacher shortage and the current teacher pool is not reflecting the diversity in the schools, so we asked 'what can we do to help?'" said Kathy Meyer Reimer, professor of education.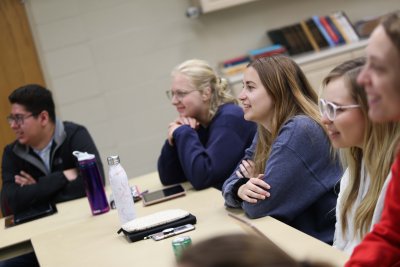 The grant will fund a new part-time position at GC to recruit, advise and mentor candidates from admission through their first year of teaching. As an extra incentive to stay in the region, students admitted to the program will receive a "signing bonus" when they graduate and begin their career in a partner school.
"Our hope is to increase the diversity of new teachers in our area and make it attractive for them to stay here rather than moving away after they graduate," Meyer Reimer said.
A 2016 study by The Learning Policy Institute found that Indiana is among the lowest performing states for teacher retention. One factor that increases teacher retention is comprehensive mentoring and induction support in the first years.
Goshen College's Teacher Education program is a nationally accredited program that has educated effective teachers since 1894. Though the program is small, over the past five years it has graduated 110 teachers, with 65 percent of them remaining to teach in Indiana for at least one semester.