'Culture for Service' prepares grads for a life of service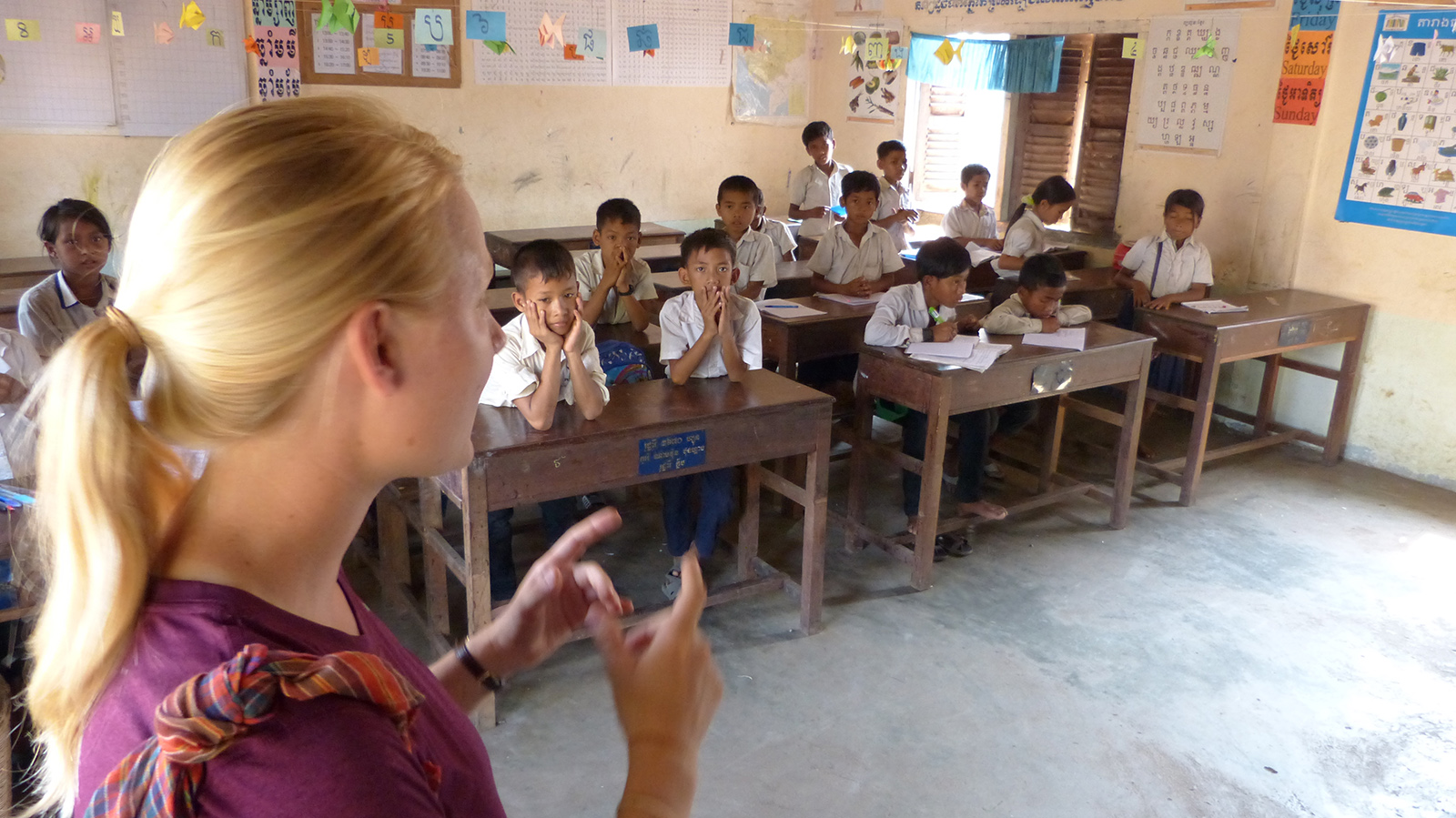 In the fall of 2013, Audrey Thill first set foot in Cambodia with Goshen College's Study-Service Term (SST), a unique semester-long study abroad program. She spent three months learning the Khmer language and Cambodia's culture and history in Phnom Penh, and teaching English in the remote fishing village of Kampong Phluck.
By the time the semester was over, she knew she wanted to experience more deeply life outside of the United States.
"SST gave me a taste of what it's like to engage in a different culture and see the world from new perspectives," Thill said. "I remember asking tough questions of myself and rethinking what the word 'service' means in light of my privilege."
After graduating from GC in 2014 with degrees in sociology and peace, justice and conflict studies, she moved to Cambodia for a one-year service term with Mennonite Central Committee's (MCC) SALT program. After that year she had to decide what was next.
"I decided to stay because I was only just getting settled and knew I'd grow more if I stayed," she said. "It's not always easy, but I'm glad I made that choice."
An obvious option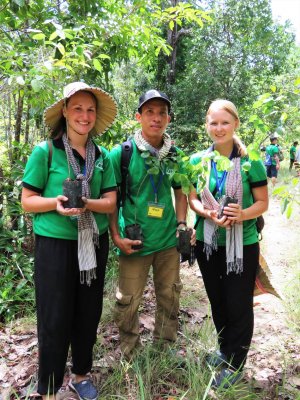 Thill's story is not unique. According to the most recent report from the Higher Education Data Sharing Consortium (HEDS) First Destination Survey, 10 percent of 2017 traditional GC graduates were in volunteer or service programs, compared to five percent at peer institutions.
The National Survey of Student Engagement shows that GC builds in significantly more service opportunities within the curriculum. In the most recent survey (2017), 96 percent of GC seniors reported doing service as part of their coursework, compared to 71 percent of seniors at four-year private colleges nationwide.
A 2018 survey of Goshen College alumni also showed that 30 percent of GC grads do community service or volunteer work at least once a month, and 78 percent do so at least once a year.
"I think there is a culture here that makes volunteer and service work an obvious option for a lot of students leaving Goshen," said Jan Bender Shetler, Goshen College professor of history and incoming director of international education. "Many of our grads spend their first years out of college doing voluntary service, either domestically or abroad. Those who have been on SST have this experience already which makes it not seem so scary to commit to a longer term after college. We also have an ethic of doing something to make the world a better place, which translates into students wanting to volunteer."
Bender Shetler's own SST experience in Haiti as a student was foundational to her decision to accept a position with MCC in the 1980s, where she spent 11 years in Ethiopia, the Congo and Tanzania.
A half century legacy
Goshen's SST program began in 1968, and celebrates its 50th anniversary this year. More than 8,000 alumni have participated the SST program, many of whom have gone on to full-time service work or incorporated regular volunteer work into their lives.
Mennonite Mission Network (MMN), estimates that more than 120 Goshen College alumni have worked and served with the organization in the past five years, and MCC reports that 63 Goshen College alumni have served in some capacity in that same time span.
"MCC's work increasingly requires specialized training as we accompany global partners in relief, development and peace work," said Susan Wadel, director of human resources for MCC U.S. "Educational settings that foster spiritual roots in Christian faith and peacemaking produce graduates that are most capable of providing a foundation to join in serving with MCC."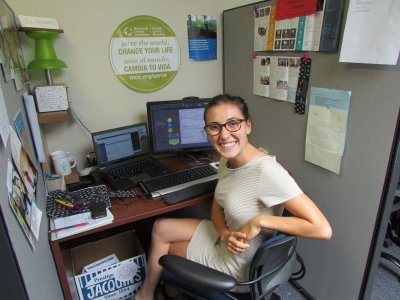 Jill Steinmetz is a 2018 GC graduate currently serving with MCC in San Pedro Sula, Honduras. She knew from a young age that she wanted to serve abroad. At GC, the Bluffton-native studied art and Spanish and spent a semester in Peru for Study-Service Term (SST).
"I learned through my four years how to connect with and learn from others who are different than myself, prioritize my time and use it wisely, be open and respectful to new ideas and cultures and to better love myself, others, God and creation," Steinmetz said.
On campus, Steinmetz was president of the Service Club, organizing local service projects and  annual service trips during school breaks.
"Service has always been important to me," Steinmetz said. "Goshen's supportive and engaging community only encouraged my desire to serve. 'Servant leadership and 'global citizenship' are values that really are lived out at Goshen, which has aided me in my faith and life walk. My SST program challenged me to tackle difficult questions about life, cultural difference, systemic violence, political systems and poverty and in that way prepared me to live and serve abroad."
In Phnom Penh, Thill is in her fifth year with MCC and is transitioning into a new role as the Cambodia Peace Advisor and Myanmar Peace Projects Coordinator, where she'll provide project planning and oversight to MCC partners as well as identify new opportunities for MCC to support local peacebuilders.
"SST and my experience at GC in general taught me to see how my own life is connected to the lives of other people," Thill said. "Now when I see Cambodian garment factory workers packed into trucks or villages razed for sugar plantations I realize these are the externalized costs of my convenient, cheap life in the United States."