The global language of basketball: Errick McCollum '10
This story originally appeared in the Spring/Summer 2019 issue of The Bulletin
BY DAVID DRIVER
---
ERRICK MCCOLLUM '10 had the basketball at the top of the key and sank a 3-pointer, giving his team a seven-point lead they would not relinquish. That long-distance bomb ignited a large puff of smoke above his team's basket, and fans of the green-clad Unics of Kazan — a professional basketball team in Kazan, Russia, that plays in the VTB United League and EuroCup — roared their approval. A banner in Russian a few feet behind the basket said "We are Together" in both English and Russian. Another sign in English said "While I breathe, I hope and believe in my team."
That devotion to the local club — be it soccer or basketball — is not uncommon in Europe and other parts of the world. There is also some quirkiness to basketball overseas, as McCollum has discovered in nine years of a vagabond existence that has taken him from Turkey to China and this season to Russia for play in the top league in that country.
"Basketball is such a global sport," he said, standing on the court in Kazan after a game this season.
Over the years, several other Goshen College men's basketball players have also gone on to play the sport professionally overseas after graduation as well, though McCollum has seen the most success. He has helped lead his team Overseas Elite to four consecutive championship wins in the annual The Basketball Tournament and he set a record in the Chinese professional league in 2015 for the most points in a game with 82 when he played for the Zhejiang Golden Bulls.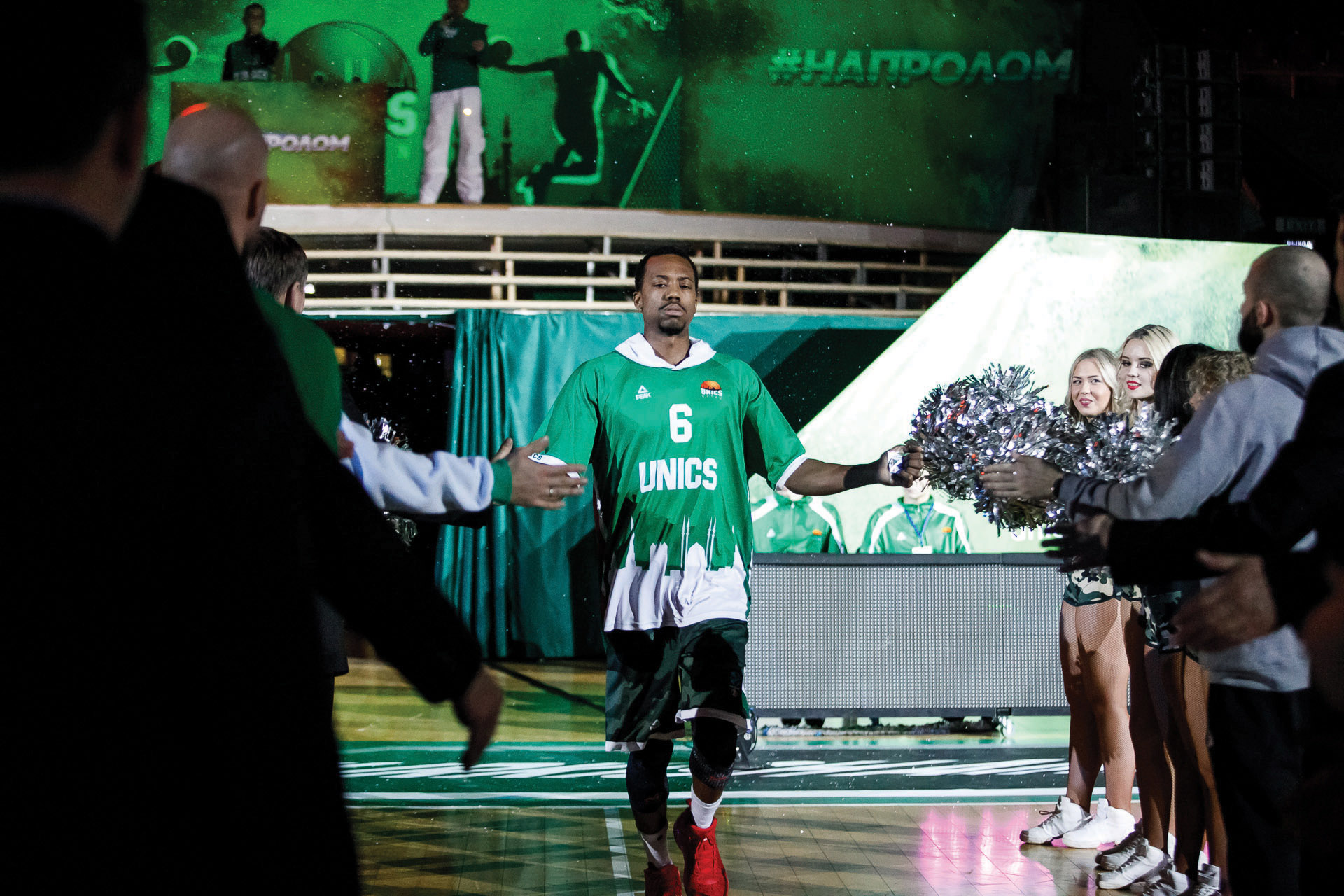 COMING TO GOSHEN
McCollum, 31, grew up in Canton, Ohio and dealt mostly with two cultures — African-American and Caucasian. That changed when he got to Goshen. "It allowed me to see different cultures," he said. "Goshen introduced me to different cultures and people. I was a bit close-minded back then, but [at GC] I met students from different countries who changed my perspective. I began to immerse myself in other cultures beside my own. Those friends I met taught me about their traditions."
"What I appreciated about Errick was his loyalty to Goshen College and his teammates. He could have transferred to a higher level after his [first] year when there was a coaching change, but instead he decided to stay and finish out his career at Goshen," said Gary Chupp, former men's basketball head coach.
A GLOBAL CAREER
After a standout college performance — he holds the single season and career scoring records in men's basketball, and in his senior year one of his dunks made it on to ESPN SportsCenter's Top 10 plays — he graduated in 2010 with a degree in business. Since then he has seen the world through basketball, also playing for teams in Greece and Israel.
"I enjoy seeing different places/ cultures, going somewhere new and just adapting," he said. "Each country is a new adventure and every place has something historic or a sight to behold. I've been blessed to see many places. I've visited 20 different countries so far through basketball."
"God blessed me with the ability and talent to play basketball," he added. "I took that gift, worked extremely hard and maximized it. Yes, it's true not many guys coming from smaller colleges play at the professional level, but when God has something for you, nothing can get in the way of that. Here I am nine years into my career, just blessed. I just try and glorify God's name and represent my family and everything associated with me in a positive manner."
The 6-foot, 1-inch McCollum had several teammates this season in Russia who had impressive Division I pedigrees and even some NBA experience, but it was McCollum who played point guard in key stretches for the team in Kazan.
"He is an amazing player," said his teammate Jordan Carmichael. "He brings all the things you would want in a teammate in Europe. He's selfless, very skilled and can play the one and two guard spots and is the best shooter I have ever been around. He is very talented and such a veteran leader, which helps me so much on and off the court."
McCollum has gotten used to adapting to new countries and cultures. That was also true in Kazan, which is about 500 miles east of Moscow and has about 1.2 million people.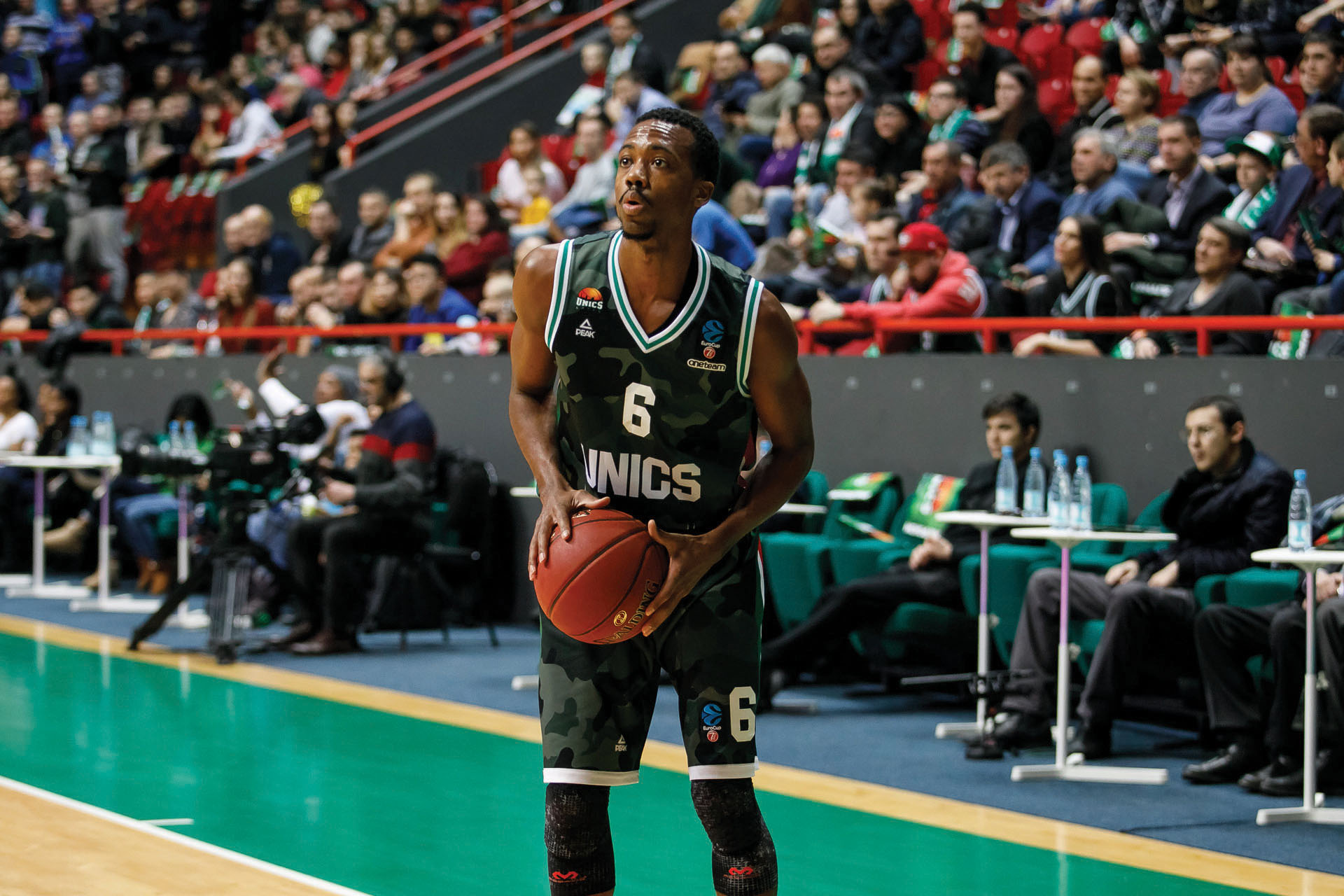 LEAVING A LEGACY OFF THE COURT
"Life in Kazan is a little like the Midwest," he said. "Except it's colder and more snow."
McCollum's brother, C.J., was a star at Division I Lehigh University and is now a standout in the NBA with the Portland Trailblazers. They have remained close and both try to be role models off the court.
Last fall the brothers teamed up with an Akron, Ohio food bank for their first annual turkey giveaway to provide Thanksgiving meals for 200 families. They also host a summer youth basketball camp in Akron, mentoring more than 100 kids in their hometown.
"My brother and I talk almost every day," the Goshen grad said. "We watch and keep up with each other's games, and push each other on and off the court. He's my little brother, my workout buddy, business partner all in one. We have a very unique relationship that has pushed us to excel at an extremely high level on the court, but what I'm most proud of is the difference that we have been able to make off the court."
---
David Driver is a sports freelance writer from the Washington D.C. area.