GC graduates launch 'Local' soft drink venture
By Siana Emery
Members of the Goshen community have a new refreshment to try. "Local," a drink venture piloted by three GC students who graduated last month, is described as a "seed-stage funded entrepreneurship venture designed to bring local artists together with the local community through sparkling water with an all-natural sweet twist."
The drink, which is a hybrid between sparkling water and soda, is a product that Carter McKay-Epp, Nimoy Vaidya and Mikol Aspinwall have been conceptualizing since November. Aspinwall said that their formalized mission is to "strive to empower local artists, give back to our surrounding communities and deliver a drink worth drinking."
McKay-Epp notes that the idea came about because he and Aspinwall are big sparkling water fans.
"We were upset that more of our friends didn't like sparkling water, and we were talking about how many people don't like soda because it's way too sugary and syrupy," McKay-Epp said. "We were thinking of what was out there and there really wasn't what we were looking for - a drink like sparkling water but with just enough sugar to take the edge off."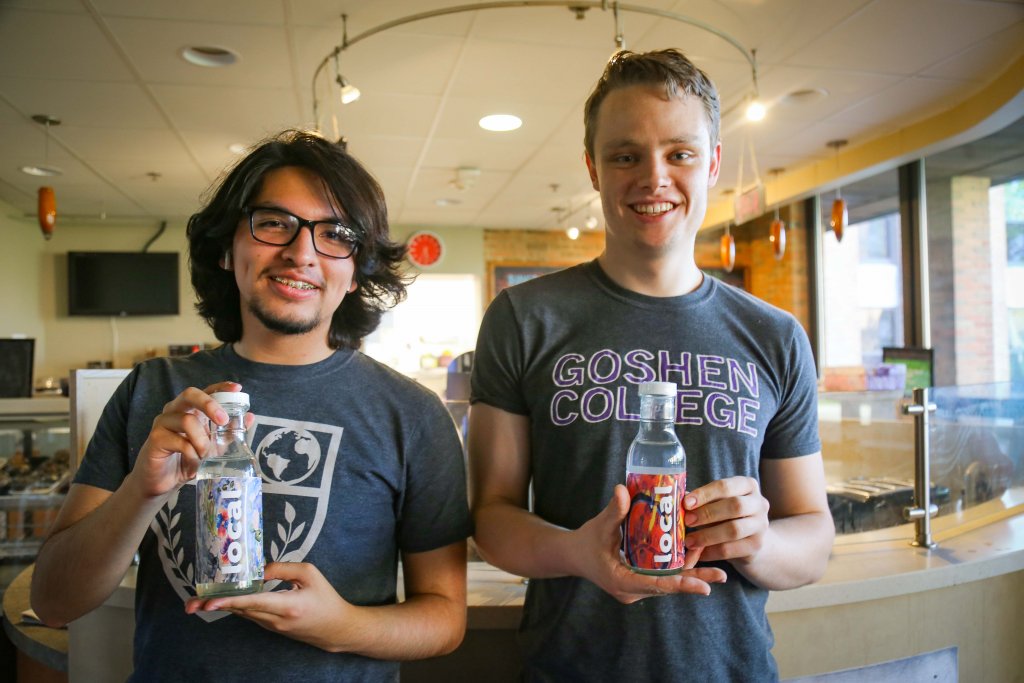 The three entrepreneurs held a launch party on Tuesday, May 14 in the college's coffee shop, Java Junction.
They released two flavors: watermelon-lime and orange. Each flavor has its own artwork with colors that match the flavors, created by Goshen College students.
While details regarding other recipes and branding are still being finalized, there are a few key points the group has decided to center their venture around.
When it comes to branding, the group knew from the beginning that they wanted to showcase the work of local artists on the cans or bottles of the drink. As the business gets going, the three men plan on giving a certain amount of the proceeds to the artists.
"We really want to give back — that's a fundamental part of our mission," said McKay-Epp. "We have a lot of friends who are artists, and it's not something that a lot of people get to see just because it's hard for artists to get their work out there.
The brand name, "Local," was chosen with the intent of creating a sense of place for where the drink will be produced and sold: Goshen.
"I think all of us as seniors were getting a little bit nostalgic about our time here and so what better way to try and celebrate the community?" McKay-Epp said. "That's what the name is meant to represent — the local community."
McKay-Epp, who grew up in both Bogota, Colombia and Erie, Colorado, notes that he's realized that each individual location has a specific sense of place.
"I've tended to live in communities that are really kind of proud of who they are and Goshen is no exception," said McKay-Epp. "That's what makes it cool to base our product here — people in Goshen tend to really like Goshen."
Each member of Local brings unique expertise to the table. As an English major, McKay-Epp provides language for things like advertising. Vaidya, a business major from Kathmandu, Nepal, brings knowledge of the technical aspects of running a business.
At age 17, Aspinwall is "resident teenage wonderkid," McKay-Epp said. Aspinwall has worked with startups in the past, including Blink, a recently-launched Silicon Valley based social media company.
"I'm in charge of everything related to online presence," said Aspinwall. "I also have some business experience from my marketing minor, and do some work with supply chain development. I also act as a liaison with our graphic design consultant, Bryce Yoder, as well as a liaison for artists we'd like to represent on our product."
"We're a really good team because each of us has really kind of different talents from each other and we really mesh well," said McKay-Epp. "We enjoy working together, and we support each other."
As with the origins of Menno Tea, a product that also began with students at Goshen College, the men behind Local are looking at renting out space in one of the college's commercial grade kitchens and the college's coffee shop, Java Junction.
Local will be available at Java Junction and through their website, locallabs.co, with hopes to begin distribution in other area stores soon.