WATCH: Goshen College alumna Achieng Agutu '18 surprised on Ellen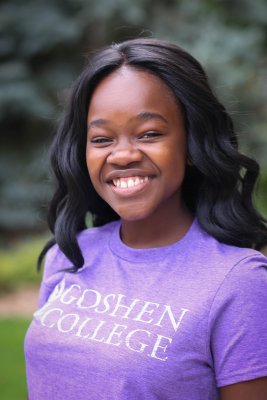 Achieng Agutu used to watch the Ellen Show from her home in Kisumu, Kenya, to help improve her English language skills.
This month, Agutu, a 2018 Goshen College graduate with a degree in public relations, had her chance to share the spotlight with Ellen DeGeneres on the show that aired May 2.
"I love the Ellen Show and I have been watching them for a long time," Agutu said. "I had written to them a few times in the past as well. But I got lucky this time around when I wrote to them and they reached out showing interest and wanting to hear more about my story."
Agutu got tickets to be in the audience, not suspecting anything further. She was invited to sit down with DeGeneres on the pretense that DeGeneres was impressed with her dancing before the show. After Agutu introduced herself, DeGeneres said, "I actually know a little bit more about you than I'm pretending to know."
DeGeneres invited Agutu to tell the audience more about herself, her jobs and how difficult it is for her family in Kenya, who supported her throughout her education, and the ways her family is helping other students in Kenya receive an education. She then surprised Agutu by bringing up a live video feed of her parents and brother, who hadn't seen her in two years.
When the video feeds cut out, Degeneres pretended to head backstage to fix the problem, but instead the doors opened to reveal Agutu's family in person.
"This was all a big surprise and it was the best thing ever," Agutu said. "I am more surprised that my family was able to keep this secret from me for this long!"
After a joyful reunion on stage, which included many tears, hugs and ululations, DeGeneres introduced "Million Dollar May," in which the show is giving away a million dollars during the month of May to deserving people.
The Agutu family played a version of three-card monte for a chance to win $50,000, which they won by guessing the correct card.
"We haven't decided just yet what we want to do [with the money]," Agutu said. "But no matter what we do, we want to use part of this money to help the underserved people in our communities. So we are hoping to pay for a few more people to go to school. We will definitely give back to our church because we are here today because of the countless prayers and blessings that we have received."
Agutu currently works as an admissions counselor at Holy Cross College, and plans to attend graduate school in the fall at Hult International Business School.
"It felt like it was all a dream," Agutu said. "Ellen is even more amazing in person, and being on the stage with her felt magical. I still can't believe it all happened. I kept on telling the Ellen team afterwards, 'how will I ever be happy again?' Because this was the happiest moment of my life!"