Graduate Story: Senior Irina Gladun finds community in clay
By Emily Kauffman '18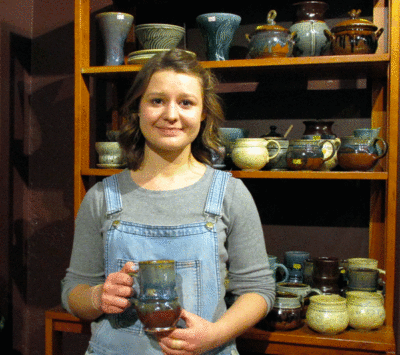 A significant part of Irina Gladun's education in the last four years has been outside of the classroom, as an apprentice in the studio of Goshen clay artist Mark Goertzen.
Goertzen called her the morning after she graduated from high school and said all his employees had quit and he needed Gladun to work for him. She began working a few days later, and Goertzen and Gladun have been friends and employer/employees ever since. Gladun really likes their dynamic.
"I feel like we care about each other a lot, and want to help each other grow," she said.
In the studio, Gladun has been involved in every part of the process. She starts and makes work that goes out in the gallery and is sold for Goertzen. Trimming, glazing, loading and firing kilns, mixing glazes, interacting with customers and figuring out orders. She's felt like she's had the full experience except the accounting and business side.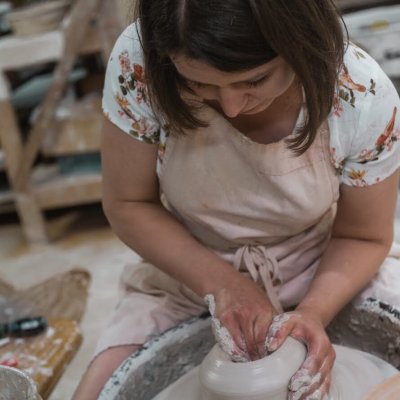 When Gladun entered college, the only thing she was interested in was music. She really wanted to do ceramics, too, but didn't think it could be sustainable. Her first semester she took all music classes. Her sophomore year she filled her first semester with all art classes and the next semester she took all English classes. She settled on an English major thinking it would be more practical, but then thought, 'what the heck? let's just do all of it.'
Gladun graduates as an art and English double major with a minor in vocal performance this weekend.
All the avenues of study- art, English and music - have informed each other for Gladun.
"I would say that taking English classes has helped me solidify what I want my pots to speak about and taught me to articulate it," said Gladun. "Without study of metaphor and poetry and critical theory I don't think I would be as aware of the elements I'm using and what they're saying. I also think that the feminism and the attitude that women are valuable that I've experienced throughout all the parts of campus I've been in have helped me develop my feminist agenda pottery."
Gladun has been involved in the Women's World Music Choir and Chamber Choir. She's also been a leader of the student-led Art Club, whose main event each semester is the student art sale.
She's met several people in the community during these art sales where students come together to showcase their art. Through her community at Goertzen's she's been able to connect with GC alumni too.
Dick Lehman '76, who started the studio where Gladun works, have become good friends. Mark Nafziger '79, is Gladun's "favorite person ever." Justin Rothshank '00, who has been instrumental in creating events bringing attention to the ceramics community, has always had good advice and shared potential paths with Gladun. Todd Pletcher '05 got her into the local ceramics community after seeing her pieces at her high school senior showcase.
"Being around so many male potters shows me how I can make my pottery more feminine, but also shows me the qualities of strong pots which I can incorporate in my work in my own way," she said.
Following graduation, Gladun will spend two months in Connecticut covering for Maddie Gerig '17 working part-time for a Yale professor. She will be typing up manuscripts and cross-referencing poems online. The opportunity came about when Gladun interviewed Gerig for a senior seminar assignment. Their conversation prompted Gerig to ask Gladun if she would be interested in the position while Gerig completes a summer residency for an art therapy program.
After interacting with alumni from various majors, through choir tours and staying with people who graduated from Goshen, the thing that Gladun sees as connecting everyone is a really large sense of compassion. She says it is a special thing that Goshen fosters, and she's grateful to have experienced so much compassion and openness. Those are two things that have shaped the way Gladun wants to be going forward.