Senior Suzanna Griest earns Award of Excellence in Business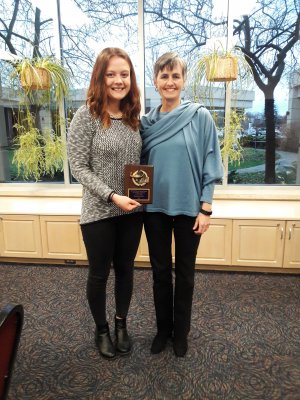 Suzanna Griest, a senior business major from Oak Park, Illinois, received the 2019 Wall Street Journal Award For Excellence in Business from the Goshen College Business Department on April 13. This award is given to a student who embodies academic excellence, curiosity, a desire to learn, career development and engagement in class.
"Suzanna asks good questions in class discussions, she is willing to share her perspective and cares about the learning environment," said Michelle Horning, professor of accounting and department chair. "She is regularly asking her professors to review her resume, suggest improvements and wants to be the best internship and job candidate possible."
Griest cited the May term class 'Ecological Economics in Ecuador,' her internship at Everence last summer and a MEDA convention this year in Indianapolis as significant experiences that have prepared her for a career.
"The May term class in Ecuador taught me firsthand how to communicate across cultural differences, but also the importance of different ways of life and how we affect the world around us," Griest said. "My internship with Everence helped span the space between what I have been learning in the classroom to the workplace. The MEDA convention was incredible to be part of because it gathered many businesses and people together to talk about about possible solutions to poverty. MEDA is starting a new wave in the organization to bring young voices into their movement, and it was enlightening to see this in action through their MEDAx program."
Griest has served as a leader for the Art Club on campus and sings with the Women's World Music Choir. She has also participated in a Mennonite Health Services conference and regularly attends business department events with the local business community. She has spent many summers on the staff at Camp Friedenswald in Cassopolis, Michigan.
"Goshen College has provided me a space to become a more well-rounded person who feels prepared for the next step in life's journey," she said.
Griest is still exploring her options after graduation, but she has an idea of the kind of place she wants to work.
"I hope to work with a company that has a culture that encourages community growth, welcomes innovative and diverse ideas, and empowers its employees to better themselves as well as the people around them," Griest said.