GC named 'Radio School of the Year' for fifth time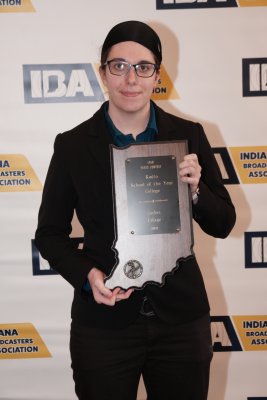 For the fifth time in program history Goshen College was named "Radio School of the Year" by the Indiana Association of School Broadcasters (IASB). Globe Radio and TV students gathered with hundreds of other college radio and television undergraduates from across the state at the 15th annual IASB Awards luncheon in Carmel, Indiana on March 30.
"Our staff embraced a new philosophy of convergent storytelling, developed strong interpersonal relationships, and worked with a spirit of gratitude and appreciation for one another," said Jason Samuel, WGCS general manager and assistant professor of communication. "Within that framework they were able to create audio, video and written content that matters to our audience."
Students from 91.1 The Globe, Goshen College Communication Department's student run radio station, earned 11 awards, including three first places honors. Globe TV student staff picked up seven awards for their efforts.
In a separate multimedia website competition, FiveCore Media, the college's video production company, was honored with a second place award while The Globe earned third place in the same category.
This is the fifth state championship for the radio station, joining the winners from 2012, 2013, 2014 and 2016. The five titles is the most by any school since the competition was first held in 2005.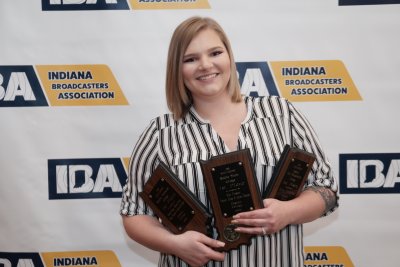 Awards Breakdown
Laura Hoover, a senior broadcasting major from Chesterton, Indiana collected a pair of second place finishes for Radio In-Depth and Corporate Video.
Riley Friesner, junior broadcasting major from Elkhart, Indiana won first place in three categories: Radio Air Personality, Radio Show, and Radio Newscast. She also earned a third place selection in Photojournalism.
Tanner Camp, a junior broadcasting major from Fremont, Indiana, picked up two first place awards: Radio Show and Corporate Video.
Karen Ramos, a junior communication major from Goshen, Indiana, was part of the first place team for Radio Show and was also honored with a third place award for Radio Newscast.
Alyson Prigge, a junior public relations major from Hamler, Ohio, crafted the first place script for Radio Newscast.
Ben Hathaway, a sophomore film production major from Goshen, claimed his first state champion award in the Short Film category.
William Troyer, a sophomore broadcasting major from Goshen and Zachariah Begly, a sophomore broadcasting major from Evanston, Illinois, both won first place honors as part of the Radio Newscast and shared a third place award with Gabe Kermode, a first-year broadcasting major from Boulder City, Nevada for Radio Sporting Event Broadcast.
Kadie Spoor, a sophomore broadcasting major from Valparaiso, Indiana, earned four awards: second place, Radio Show, which she shared with Kermode and Brandon Roe, a sophomore broadcasting major from New Holland, Pennsylvania, second place, Radio Talk Show, third place, Radio Newscast, and third place in Television Copywriting.
Roe also collected a second place award in the Radio Interview category while Kermode scored a second place distinction for his Radio News Report.
Jeremiah Sherrill, a first-year film production major from Goshen placed second in the Television Copywriting category and third place in Radio Spot Production.
Brad Stoltzfus, a 2018 broadcasting major from Goshen, grabbed first place accolades for his Corporate Video and a third place selection for Radio Spot Production.
A trio of 2018 film production majors, Tabitha Immanuel, from New Delhi, India, Riley Mills, Milltown, Indiana and Tim Litwiller, Peoria, Arizona, earned a second place award for Television Spot Production Station.
"The significance of being named the best station in the state of Indiana is something that hasn't hit me yet," said Laura Hoover, student station manager. "I don't think I understood how cool it can be to work together and pull through challenges. It's made me prouder than ever of The Globe and our staff."
About the Goshen College Communication Department: The Goshen College Communication Department has been recognized in the state and nation for its excellence in broadcasting, journalism, speech, film production and writing. The department has been named Indiana TV and Radio school of the year multiple times, Best College Radio station in the nation twice, Indiana Broadcasters Association Best Radio Station, Best College Newspaper in the state and many more. Students from Goshen College's Communication Program get hands on learning opportunities with the department's co-curriculars like, The Record, PRSSA, WGCS 91.1 The Globe, FiveCore Media and Globe TV. To learn more visit www.goshen.edu/communication – www.globeradio.org – www.fivecoremedia.com