GC social work program named top 50 nationally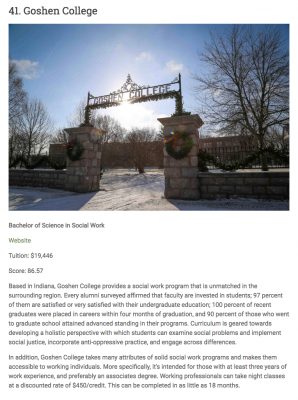 Goshen College's social work program has been named among the top 50 social work undergraduate programs by the 2019 Social Work Degree Guide, an online resource for finding up-to-date information about educational and career options in social work.
According to the site, "Every alumni surveyed affirmed that faculty are invested in students; 97 percent of them are satisfied or very satisfied with their undergraduate education; 100 percent of recent graduates were placed in careers within four months of graduation, and 90 percent of those who went to graduate school attained advanced standing in their programs."
The ranking factors in student satisfaction and affordability as our primary metrics, at 30 percent of the total ranking each. from there alumni salaries, SAT scores and retention rate each represent 10 percent.
For the last two years, Goshen College has also been the top college for social work majors in Indiana, according to Zippia, a website that provides career information and tools for professionals across various industries.
At Goshen, social work majors find many opportunities on campus and in the community, including a mandatory senior internship. Through coursework and supervised practice experiences, social work majors develop the skills needed to succeed in graduate school and the professional world of social work.
"Our graduates really are the best measure of our success as a social work program and as a college overall," said Jeanne Liechty, social work program director and department chair. "I am proud of our graduates and the many ways they work with and on behalf of vulnerable populations and social justice using the tools, skills and knowledge they gained in our program."