Gayatri Patnaik, GC alumna and editorial director of Beacon Press, to speak at 121st commencement
Gayatri Patnaik, a 1990 GC alumna and editorial director of Beacon Press in Boston, will be the keynote speaker at Goshen College's 121st commencement ceremony on Sunday, April 28, 2019 at 3 p.m. in the Roman Gingerich Recreation-Fitness Center.
---
See the graduation webpage for a full schedule of events and other helpful information about Commencement Weekend.
---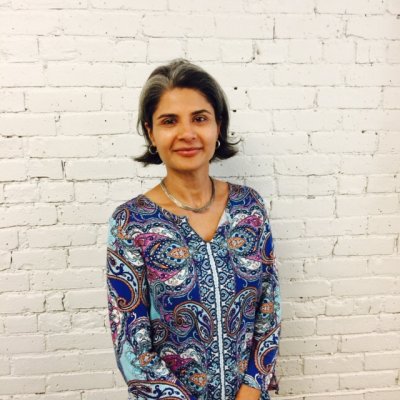 Gayatri Patnaik is editorial director of Beacon Press, a distinguished Boston-based publisher founded in 1854 by the Unitarian Universalist Association. Beacon Press is a progressive publisher whose books affirm "the inherent worth and dignity of every person" and has published titles including James Baldwin's Notes of a Native Son, Viktor Frankl's Man's Search for Meaning, poetry by Mary Oliver, and books by Dr. Martin Luther King, Jr.
Patnaik was born in India, where she spent her earliest years with her grandmother in New Delhi. At age seven, she joined her mother and older brother in the United States, where her mother taught at Frostburg State College (now Frostburg State University) in Frostburg, Maryland. At age 14, Patnaik returned to India to study at the Woodstock School, an international boarding school. Because of family connections, she decided to attend Goshen and graduated in 1990 with a major in English Literature and three minors in French, women's studies and teaching English to speakers of other languages (TESOL).
She received a fellowship from The New School for Social Research in New York City, where she received her master's degree in Anthropology, writing her master's thesis on girls in Bombay who were forced into prostitution and on the role of the Indian government in perpetuating the AIDS pandemic.
Taking a pause from the academy, Patnaik completed an internship at Random House, and then began her publishing career at a high profile imprint called Rob Weisbach Books, which published authors including Whoopi Goldberg, Paul Reiser and Brad Meltzer. Electing to work at a more intellectually rigorous publisher, she then moved to Routledge, where she became full editor and acquired books in philosophy, and later moved to Palgrave-Macmillan where she edited both academic and trade titles and was promoted to senior editor.
Patnaik joined Beacon Press in 2002 where she edits books in U.S. history, on race/ethnicity, African American studies, immigration and LGBTQ-related issues. She has worked with authors including public intellectual Cornel West, activist Charlene Carruthers, trans trailblazer Kate Bornstein, and "bottom up" historian Marcus Rediker. Her successful series "ReVisioning American History" approaches our history from the vantage point of underrepresented communities and flips the usual narrative, showing the immense complexity and truth of the past. One of the books in that series was the best-selling "An Indigenous Peoples' History of the United States" by Roxanne Dunbar-Ortiz, which was the 2015 recipient of the American Book Award. Patnaik also published the biography "The Rebellious Life of Mrs. Rosa Parks" by Jeanne Theoharis, which won the 2014 NAACP Image Award.
Schedule of Goshen College's 121st Commencement Weekend activities:
» See the full schedule
Saturday, April 27
1:30 p.m. – Nurses' Pinning Ceremony, Church-Chapel
1:30-5 p.m. – Department receptions – graduates and families meet informally with professors
7:30 p.m. – Graduate Celebration, Music Center's Sauder Concert Hall

8:45 p.m. – President's Reception for graduates and families, Music Center lobby
Sunday, April 28
11 a.m. – Baccalaureate service, with address by President Rebecca J. Stoltzfus, Church-Chapel

3 p.m. – 121st Annual Commencement Ceremony, with address by Gayatri Patnaik, Roman Gingerich Recreation-Fitness Center
No admission tickets needed. Spanish translation headsets and assisted listening devices are available for all who need them. ASL translation is also offered and the space is wheelchair accessible. (For those unable to attend, watch the live-streaming of the ceremony.)