Carolyn Schrock-Shenk, conflict studies professor, remembered for transformative effect on students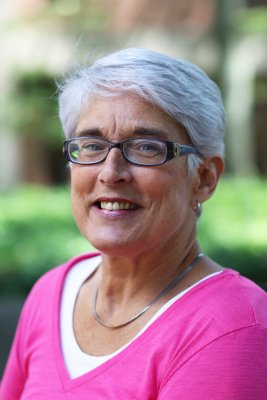 Goshen College Associate Professor of Peace, Justice and Conflict Studies Carolyn Schrock-Shenk died early Wednesday morning, Feb. 6, 2019, after a brief hospitalization at the age of 63.
Schrock-Shenk joined the Goshen College faculty in 2000. She retired in 2017, but continued to teach the popular Inside-Out Exchange Program class at the Elkhart County Correctional Center, which paired Goshen College students with "inside" incarcerated students at the jail.
"Carolyn's thirst for justice drew me into the lives of the incarcerated through our Inside-Out classrooms," said Glenn Gilbert, director of facilities at Goshen College and co-teacher for the Inside-Out class. "She helped scores of students, both Goshen College students and incarcerated men and women, discover our commonality and imagine new ways of relating and living together. She taught me not to be afraid of conflict. She would say that conflict is a natural part of the human experience. What she taught us to do was find healthy ways to engage our differences and learn from each other instead of avoid the disagreements."
Schrock-Shenk was born July 22, 1955, in Goshen to David and Anna Ruth (Bontrager) Schrock. She is a 1973 graduate of Northridge High School in Middlebury, Indiana, and attended Rosedale (Ohio) Bible Institute from 1973-75. In 1980, she earned a bachelor's degree in nursing from Eastern Mennonite College (now University) in Harrisonburg, Virginia, and a master's degree in community nursing from the University of Virginia in 1983.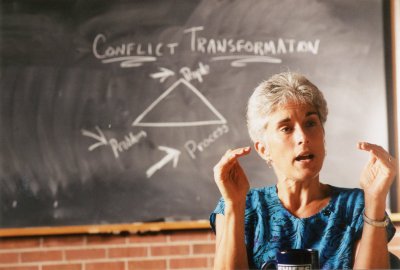 She served in the Philippines with Mennonite Central Committee (MCC) from 1985-88. She and her then-husband, Dave, later adopted their sons Caleb and John from the Philippines."
After returning to the United States, Schrock-Shenk became assistant director at the Lancaster (Pennsylvania) Mediation Center, and then directed MCC's Mennonite Conciliation Service for nearly a decade before joining the Goshen College faculty.
Schrock-Shenk was a leading expert on Mennonite mediation and reconciliation, facilitating mediations and interventions, speaking at conferences and in churches, publishing articles, and building bridges in the community. She co-edited "Mediation and Facilitation Training Manual: Foundations and Skills for Constructive Conflict Transformation," (Mennonite Conciliation Service, 1995) and "Making Peace with Conflict: Practical Skills for Conflict Transformation," (Herald Press, 1999).
At Goshen, she developed a class called "Transforming Conflict and Violence," which continues to be a required core class for students. "Carolyn's signature course, Transforming Conflict and Violence, was, and remains, by far the most popular peace, justice and conflict studies course," said Joe Liechty, professor of peace, justice and conflict studies. "In it, students learned the invaluable lesson, and the skills to go with it, that conflict need not lead to alienation, discord or even violence; conflict could be an opportunity for transformation of individuals, relationships and society."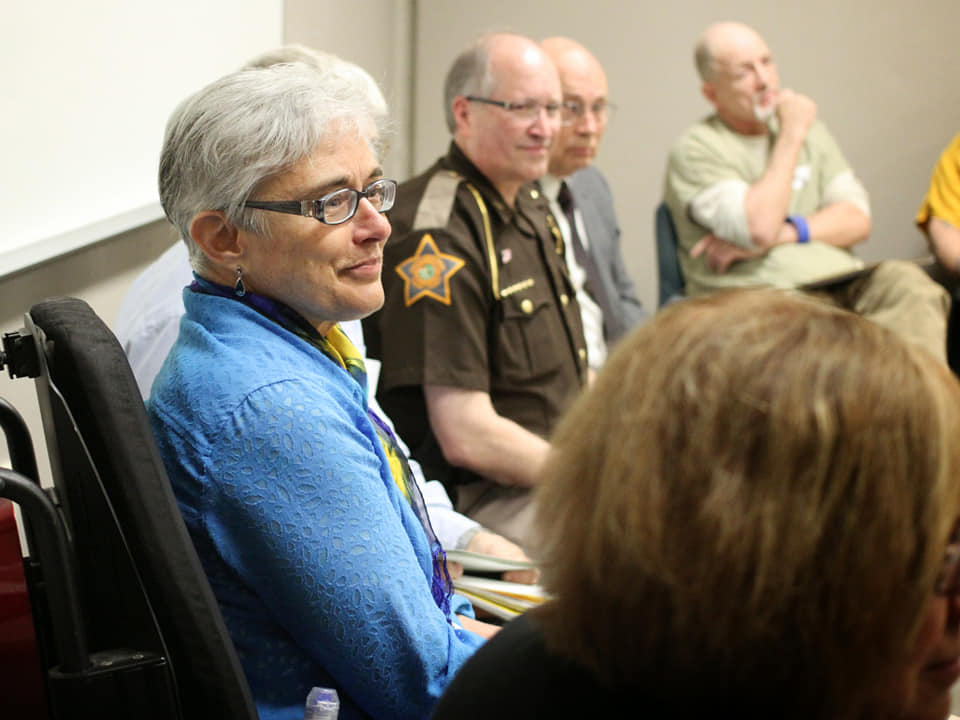 Schrock-Shenk's life was forever changed when, as a senior in college, she was seriously injured in a car accident that left her with broken vertebra and eventually led to her being wheelchair-bound for the last 15 years of her life.
She is survived by her sons, Caleb and John Schrock-Shenk, and their father, David Shenk, all of Goshen; sisters, Judy (Darold) Beachy, Mt. Gilead, Ohio, Velma (Sheldon) Swartz and Shirley (Jim) Troyer, both of Goshen; brother, Stephen Schrock, Middlebury; and sisters-in-law, Norma Schrock, Goshen and Rhonda Schrock, Middlebury. She was preceded in death by her parents and brothers, Clifford and Larry Schrock.
Schrock-Shenk was an active member at Assembly Mennonite Church, where a  memorial service was held on Saturday, Feb. 9.
In lieu of flowers, memorial contributions can be given to Goshen College for the Inside-Out program.
---
Related links: