Alice Parker, Mary Oyer to celebrate musical legacies Nov. 17
Event: Years of friendship: Alice Parker & Mary Oyer at Goshen College
Date & Time: Sunday, Nov. 18, 7 p.m.
Location: Church-Chapel
Cost: Free and open to the public
---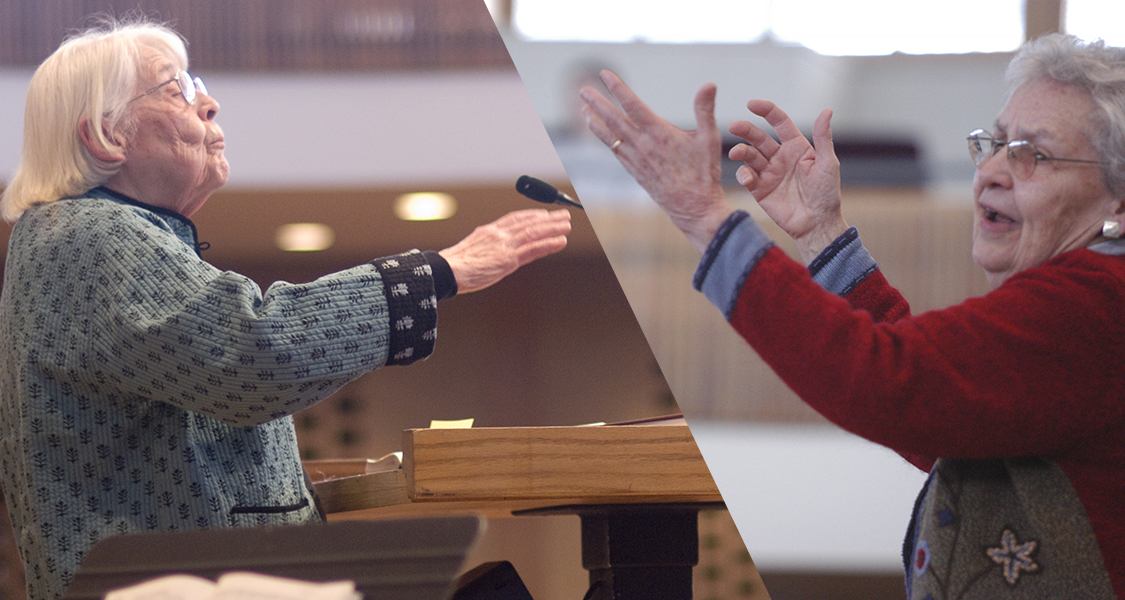 Alice Parker, an internationally renowned composer, conductor and teacher, will visit Goshen College for a festival performance of her music on Sunday, Nov. 18 at 7 p.m. in the College Mennonite Church-Chapel. This event is free and open to the public.
At noon on Friday, Nov. 16, at the Music Center's Rieth Recital Hall, Parker and professor of music emeritus Mary Oyer will discuss Parker's musical legacy and her involvement with the Mennonite community. Rebecca Slough, former dean at AMBS and a member of the leadership group for Hymnal: A Worship Book, will be moderating this event, which is jointly sponsored by the Goshen Community Chorale, Goshen College and Lifelong Learning Institute of Elkhart County.
Alice Parker studied composition and conducting at Smith College and the Juilliard School, where she began her long association with Robert Shaw. The many Parker/Shaw settings of American folk songs, hymns and spirituals from that period form an enduring repertoire for choruses all around the world.
Her list of published compositions has more than five hundred titles, ranging from operas through song cycles, cantatas and choral suites to many individual anthems. She has been commissioned by hundreds of community, school and church choruses, and her works appear in the catalogs of a dozen publishing companies.
Now a resident of western Massachusetts, Parker has published books on melodic styles, choral improvisation and church music. The Anatomy of Melody (2006) and The Answering Voice (2014) set forth her views on a compositional universe that begins in song, and flowers in musical conversations. The Melodious Accord Hymnal (2010) contains brief versions of many American folk hymns, as well as her own settings of contemporary poets. The second edition of her classic essays on song leading and congregational singing, Melodious Accord: Good Singing in Church, appeared in 2013.
Parker has served on the Board of Directors of Chorus America and was named their first Director Laureate. In 2013 she received the Robert Shaw Award from the American Choral Directors Association and in 2015 the Harvard Glee Club Foundation Medal. Named Distinguished Composer of the Year 2000 by the American Guild of Organists, she is also a Fellow of the Hymn Society of the United States and Canada. She is the recipient of six honorary doctorates and the Smith College Medal as well as grants from ASCAP, the National Endowment for the Arts, The Aaron Copland Fund for Music, and the American Music Center.
Mary Oyer, now 95 years old, grew up in Goshen and graduated from Goshen College in 1944, and began teaching music and visual arts at Goshen College in 1945. During her summers, she studied cello at the University of Michigan in Ann Arbor, where in 1958 she became the first ever string player to earn a Doctor of Musical Arts performance degree from the university.
Oyer taught at Goshen College until 1987, during which time she developed a Fine Arts course that became legendary among students and was instrumental in bringing wide recognition and acceptance of the fine arts in a Mennonite liberal arts education. After she "retired" from Goshen College, she continued teaching for another 10 years at Associated Mennonite Biblical Seminary (Elkhart, Indiana) as professor of church music, and then taught for five years at Tainan Theological College and Seminary in Taiwan. She has also served as a visiting professor at Kenyatta University in Kenya. To this day, she still teaches some of the largest and most popular courses in the college's Lifelong Learning Institute for older adults.
With a history of being a trailblazer, Oyer is credited with ushering in two revolutions in Mennonite worship music. The first was her emphasis on the fine arts while teaching at Goshen College, the second was her gift of bringing the sacred music of other cultures into the Mennonite Church.
Oyer is recognized as being integral in shaping what Mennonite music sounds like today. She was instrumental in gathering hymns and songs for the widely used 1969 and 1992 Mennonite hymnals, and for more than six decades has taught those hymns to the wider church in myriad worship settings, including national conventions and world conferences. She is well known for her role in helping establish the hymn "Praise God From Whom," better known as "606," as the Mennonite "anthem" after she led it in 1969 at the churchwide assembly in Oregon.
Her interest in ethnomusicology began in 1969, when Oyer travelled to Africa through a Fulbright grant. Following that experience, she spent many more summers over the next two decades in Africa, experiencing African music firsthand and recording regional music in 22 different countries. The 150 tapes from these visits have now been digitized and, along with various musical instruments that Oyer collected during her travels, are part of the Mary K. Oyer African Music Archive at Goshen College.
Rebecca Slough, Goshen, Indiana, teaches worship and related arts at Associated Mennonite Biblical Seminary (Elkhart, Ind.). Her current areas of professional interest include biblical interpretation and artistic expression, incorporating movement in spiritual direction, and exploring the healing benefits of sound.