GC alum and U.S. ambassador to speak about U.S. - Africa relations
Yoder Public Affairs Lecture: David Reimer: "U.S. – Africa Relations: An Ambassador's Perspective"
Date and time: Thursday, Oct. 4 at 7:30 p.m.
Location: Goshen College Music Center, Rieth Recital Hall
Cost: Free and open to the public
---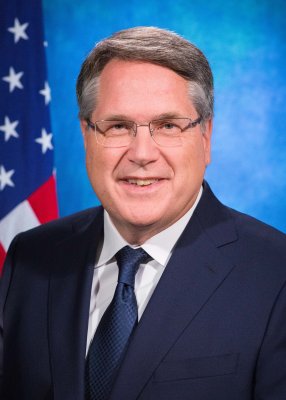 Diplomat David Reimer, U.S. ambassador to Mauritius and Seychelles, will present this year's Yoder Public Affairs Lecture: "U.S.-Africa Relations: An Ambassador's Perspective" on Thursday, Oct. 4, at 7:30 p.m. in the Goshen College Music Center's Rieth Recital Hall.
Reimer is a 1984 Goshen College graduate and 2018 Culture for Service awardee.
» Read more about David Reimer
Reimer's work has taken him around the world. He has received eight top State Department performance awards, and is known for his extensive knowledge of Africa and his outstanding leadership and communication skills.
Reimer has served as the deputy chief of mission at the U.S. Embassy in Nouakchott, Mauritania (2012-2014); was senior refugee coordinator for the U.S. Embassy Baghdad, Iraq (2011-2012); Deputy Director of the Africa Bureau of East African Affairs, (2009-2011); Refugee and Migration Officer, U.S. Mission Geneva, Switzerland (2006-2009); Economic Officer, U.S. Embassy Port-au-Prince, Haiti (2004-2006) and Economic Officer, U.S. Consulate Milan, Italy (2000-2003). He spent time at the U.S. Department of State's Economic Bureau (1996-2000), did economic work for the U.S. Embassy in Bonn, Germany and the U.S. Embassy in Belize City, Belize.
Reimer will also speak during the Homecoming Weekend alumni awards convocation at Goshen College, Oct. 5 at 10 a.m. in the Church-Chapel. Both events are free and open to the public.