Students welcomed, president dunked at 2018-19 opening convocation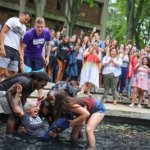 On Wednesday, Aug. 29, during a presidential convocation to open the new school year, new and returning students from 28 countries and 37 states were welcomed back to campus with the annual applause tunnel, followed by the tradition of dunking the new president.
During the convocation, Goshen College President Rebecca Stoltzfus spoke to the campus community about this year's core value focus of global citizenship as the college celebrates 50 years of its nationally-recognized study abroad program, Study-Service Term (SST). During the 1968-69 academic year, Goshen College's first official SST units traveled to Costa Rica, Guadalupe, Jamaica, Honduras, Nicaragua and Haiti.
---
» Read President Stoltzfus' speech
---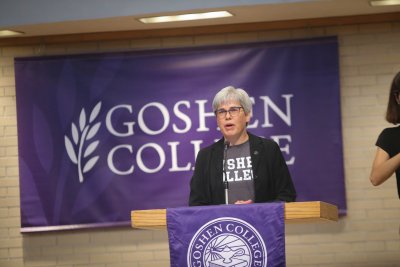 "This was truly a phenomenal commitment and innovation for any U.S. college or university at that time, and it continues to make Goshen College outstanding today," Stoltzfus said.
Stoltzfus laid out three propositions about the meaning of global citizenship: That it entails seeing the world from another's point of view; that global citizens train their minds to see the connections between things; and that global citizens encourage each other to act in the interest of transformative justice.
"Global citizenship is not about international travel and racking up visa pages in your passport," Stoltzfus said. "There are world travelers who are not global citizens, and there are global citizens who are not world travelers."
"Journeys into unknown cultures can be deeply transformative, giving us the perspective to see from another's point of view, to imagine how reality looks and feels from another world view," Stoltzfus said. "From this point of disorientation, we can see our home culture from a new perspective, even as a foreign land. And we have the opportunity to find a new ground of our own being and identity that is not so dependant on our home culture."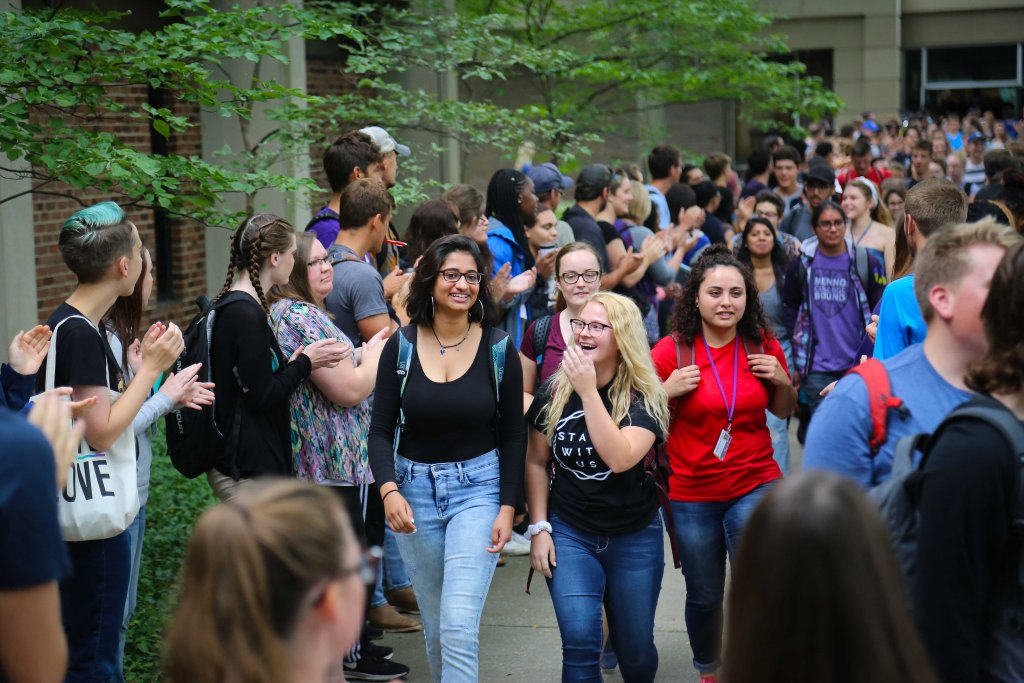 Following the convocation, staff and students exited the Church-Chapel and lined up for the annual applause tunnel, an 18-year GC tradition. Starting with faculty and staff, followed by seniors, juniors, sophomores and then first-year students, the tunnel of sustained cheering and applause serves to welcome new and returning students back to campus.
As the tunnel wrapped around Schrock Plaza, several students carried President Stoltzfus through the crowd and dunked her in the fountain, a tradition for new presidents that goes back to 1971 when students dunked President J. Lawrence Burkholder during his inauguration celebration activities, and has continued with six presidents since.