Red Cents honored with state literary magazine awards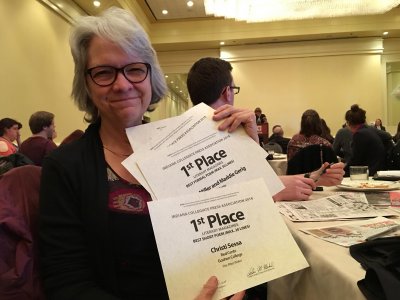 Students from the Goshen College English Department and Art Department won six literary magazine awards for the college's literary journal, Red Cents at the Indiana Collegiate Press Association's (ICPA) annual convention in Indianapolis on April 7.
Red Cents showcases student writing, visual art and graphic design. It is edited and published each year by Goshen College students through the college's Pinchpenny Press. In 2017, Red Cents published its 12th issue under the editorial direction of Madeline Gerig Shelly, 2017 graduate with an art degree, Maggie Weaver, a 2017 graduate with an English writing degree, and Helena Neufeld, a 2017 graduate with an English degree.
The judges commented: "This journal has a modern feel, and shape and size adds interest. There is beauty in its simplicity of layout and font choice."
Red Cents is published by Pinchpenny Press, the college's in-house publishing committee. For the literary magazine awards, students competed among all colleges and universities in Indiana, regardless of size.
First place awards included:
Christi Sessa, for Best Poem under 20 Lines: "Fire after Water"
Maddie Gerig Shelly and Laura Miller, for Best Formal Poem: "Haikus on College Life"
Second place awards included:
Best Overall Design
Best Single Issue
Third place awards included:
Sandra McMasters for Best Creative Nonfiction: "Daily Bread"
Best Literary Magazine of the Year