GC in top Kiplinger's 100 'Best College Values' among liberal arts colleges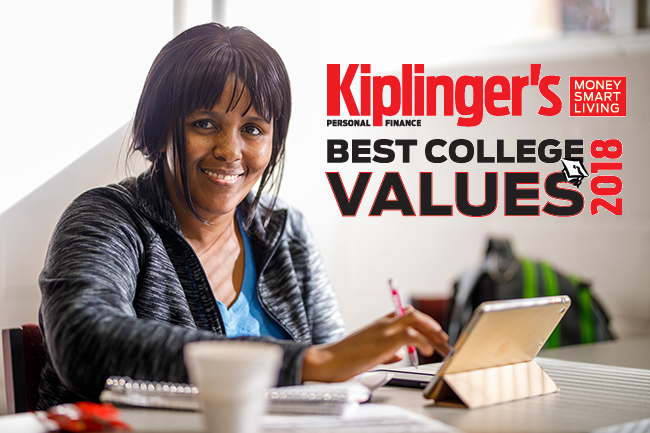 Goshen College has again been named one of the top 100 best college values among all liberal arts colleges by Kiplinger's Personal Finance for 2018, a ranking of the top 300 best college values in the nation.
"I am pleased to see Goshen recognized again in this national context for the excellent education that we provide," said President Rebecca Stoltzfus. "How we position ourselves in terms of price and affordability is also crucially important as we strive to be an engine for social justice and increased opportunity for young people."  This ranking combines both measures.
This year, Goshen College was ranked 90th among liberal arts colleges, placing it fifth among Indiana liberal arts colleges that combine outstanding quality with affordability. Among all 300 colleges and universities, GC ranked ninth in Indiana and 220th nationally.
"Our rankings, which weigh affordability alongside academic quality, are a great resource for students and their parents when sorting through college choices," said Mark Solheim, editor of Kiplinger's Personal Finance magazine. "We start with a universe of nearly 1,200 schools and trim the list using measures of academic quality. We then rank the schools based on cost and financial aid data. All 300 schools on our list are worth a look."
While continuing to maintain a quality college education and strong student satisfaction, Goshen College is also an affordable option by having a lower sticker price, offering significant financial aid packages and keeping graduation debt levels down.
Goshen College costs seven percent less than the national average for private colleges.
Last year, 99 percent of all Goshen students received financial aid and the average aid package was $24,682.
Goshen College graduates' average debt is lower than the national average.
Learn more about the affordability of a GC education, and how Mennonite colleges are working at issues of cost, access and equity.
Goshen College and the other schools included in the 2018 lists represent the colleges that provide high-quality academics at a reasonable cost. The college exemplifies attributes that parents and students look for in higher education, including small class sizes, a good first-year student retention rate and a high four-year graduation rate.
Kiplinger's assesses quality according to measurable standards, including the admission rate, the percentage of students who return for sophomore year, the student-faculty ratio and the four-year graduation rate.
The complete rankings are available online at kiplinger.com/links/college and will be published in the February 2018 issue of Kiplinger's Personal Finance, on newsstands January 9, 2018.