Service Club serves in Appalachia during fall break
While most Goshen College students went home for fall break in October for a week of relaxation and recuperation, five students from GC's Service Club ventured to West Virginia to volunteer for Sharing With Appalachian People (SWAP).
The students included Lizeth Abad, a sophomore, a sophomore elementary education major from Goshen; Annika Detweiler, a junior nursing major from Minneapolis, Minnesota; Mary O'Connell, a junior social work and American Sign Language major from Milton, Pennsylvania; Meredith Satchwell, a junior nursing major from Carlock, Illinois; and Katie Yoder, a junior history major from Stryker, Ohio.
The students spent a week in Elkhorn, West Virginia, helping the SWAP site in Elkhorn prepare to relocate to a different site in Kimball, West Virginia.
SWAP, a learning and service program of Mennonite Central Committee's Great Lakes Region, is a "home repair ministry that serves low-income families" according to the organization's website. Groups travel to counties of southeastern Kentucky and West Virginia to spend time in the Appalachian Mountains, build relationships with locals, and serve "in the name of Christ."
Satchwell, a leader of Service club, said that the idea for the trip originally came from Yoder, who worked on the SWAP staff during the summer of 2016. Yoder thought it would be fun to gather some friends and do a week of service during fall break. Satchwell was taken with the idea, and decided to open the invitation to the entire Goshen College student body by making the trip a Service Club sponsored event.
Satchwell said she decided to spend her fall break serving instead of relaxing because she was "looking for an adventure and wanted to keep busy."
"I needed something that was going to give my mind the rest it needed while keeping my body busy," Satchwell said. "SWAP was the perfect thing to both take me on an adventure and keep me doing something. Plus, it took me to one of the most beautiful regions of the U.S., allowed me to meet some of the humblest people out there and taught me some invaluable lessons."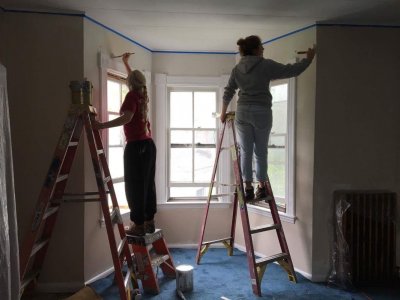 In an interview with The Record, Yoder said, "It's been a very authentic experience of 'bridge-building', working with SWAP. Appalachia…it's a completely different culture than the Midwest. I had really been hoping to give people here at GC an opportunity to go, and Service Club has made that possible."
The students spent their five days in West Virginia exploring the Appalachian Mountains, listening to guest speakers who spoke about their experiences living in the area, immersing themselves in a new culture, and packing up the SWAP site in Elkhorn. Unfortunately, the Goshen College group didn't get to work alongside homeowners, like a typical group would. However, Satchwell noted that the group was happy to serve where needed.
While the group of five students successfully helped the Elkhorn SWAP site relocate, Satchwell said it was difficult to leave.
"[It was hard to see] that there needed to be so much more work in the area and realizing that we were only 10 hands, spending only five days working there," Satchwell said.
Service Club is hopeful to sponsor another service trip during the upcoming spring break, possibly with SWAP again. However, no concrete plans have been made yet.
Goshen College's Service Club gives students an opportunity to serve in a variety of different events. With one service event every month, students have a variety of options to choose from. Typical organizations the club works with are La Casa, Elkhart Environmental Center, Habitat for Humanity and other local organizations. Satchwell said that the tasks Service Club performs "could be anything from pulling weeds, organizing things, putting together furniture, painting cleaning" and more.