GC wins national marketing-recruitment excellence award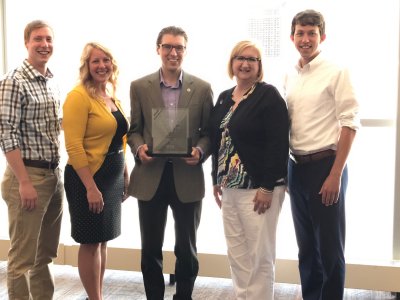 Goshen College is one of three institutions that received a national Marketing-Recruitment Excellence Award from the higher education consulting company Ruffalo Noel Levitz (RNL) at their national conference in Denver, Colorado, July 26-28.
Goshen College turned around more than five years of declining enrollment by developing long-term strategies for recruitment, financial aid strategy, search and strategic enrollment planning. The college has seen a 34 percent increase in enrollment since 2014, a 38 percent increase in net tuition revenue over two years and a major boost in diversity.
"Colleges and universities throughout the country are under increasing pressure to successfully shape their student enrollment and manage their fiscal health," said Sarah Coen, senior vice president, Ruffalo Noel Levitz. "These institutions have used leading strategies and enrollment management resources to identify, engage, and enroll their incoming classes."
The other colleges receiving this award are Hawkeye Community College (Waterloo, Iowa) and Southern Utah University (Cedar City, Utah).
In 2014, facing declining enrollment and net revenue along with high admissions staff turnover, the team began looking for a solution to remedy the situation.
"When I think back to that time, it was kind of a crisis moment for us," said Adela Hufford, dean of admissions. "We had a very broken foundation."
Rebuilding a solid foundation
At that time, the college brought on RNL to provide guidance and direction to the new leadership team, hoping for a long-term solution to build internal capacity and empower staff. It was an intense year of rebuilding.
No single strategy has been the complete solution for the campus, but rather incremental changes over time, including:
Building a positive and supportive team, and providing training whenever necessary to help work together across campus.
Investing resources in search and financial aid strategy;
Hiring a director of marketing;
Leveraging industry-leading sales and marketing automation systems to improve business processes and data quality; and
Improving reporting and analytics to support recruiting and marketing strategy.
Notable achievements
The college's openness to change and dedication over the past few years has led to the following results for first-year student recruitment:
A 37 percent increase in applicants over three years.
A 56 percent increase in admitted students over three years.
A 34 percent increase in the number of enrolled first-year students since 2014.
The college has experienced significant growth of the percent of overall traditional undergraduates who are Latino/a, from 13 percent in 2014 to 20 percent in 2016.
The Marketing-Recruitment Excellence Awards Program was established in 2002 to honor outstanding achievements in enrollment management by Ruffalo Noel Levitz's 1,800 clients.