Under music professor Jose Rocha's baton, Ben Folds and Elkhart County Symphony perform and improvise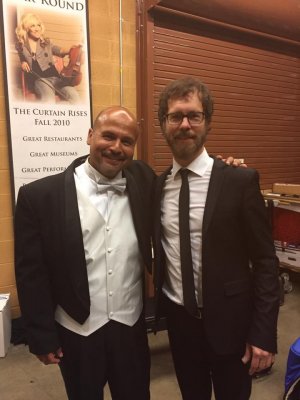 When internationally-acclaimed pianist, singer-songwriter and record producer Ben Folds arrived on stage to rehearse with the Elkhart County Symphony just hours before their concert, Jose Rocha, guest conductor and associate professor of music at Goshen College, asked him where they should start.
Folds replied, "Oh, I don't care, you're in charge. I just work here."
The light and witty response set the stage for a collaborative, spontaneous and impressive concert at the Lerner Theater in Elkhart as part of the annual Elkhart Jazz Festival on Saturday, June 24.
Folds had requested an 80-piece symphony instead of the 50-piece that normally makes up the Elkhart County Symphony. This allowed the concert to include more members of the orchestra as well as Goshen College students, alumni, adjunct music faculty members and several incoming first-years.
The orchestra performed a variety of songs written and selected by Folds himself, and though they rehearsed the music beforehand, they only had a couple of hours to rehearse with the guest artist immediately before the concert.
"Having somebody who was calm and very positive was helpful to the orchestra," Rocha said.
Folds played many of his hits, such as "Landed," "Zak and Sara" and "Steven's Last Night in Town," as well as part of a concerto for piano and orchestra that he had written.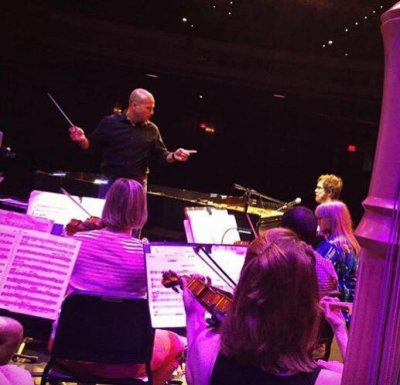 As he does in many of his concerts, Folds improvised a song on the spot in the middle of the concert, giving out instructions to different sections while improvising on the piano. Under the direction of Folds and Rocha, the orchestra played the finished product 15 minutes later.
"What is memorable to me is how fearless people were," said Rocha. "Everybody was very committed and I'm excited that the orchestra got to play with such a big artist. We really wanting to play the best show we could, and it was really apparent in the preparation and the enthusiasm."
Folds gained national attention as the frontman of the group Ben Folds Five. He has performed with a number of different people and groups including William Shatner and a variety of symphonies. And he was a judge on NBC's The Sing Off for a number of years. The pianist and singer has also collaborated with contemporary musicians like Regina Spektor and 'Weird Al' Yankovic.
Rocha noted the potential anxiety that comes from working with a big artist on a tight schedule. He credits much of his calm demeanor and positivity to his time at Goshen College.
"Working here has given me so much experience," he said. "Good humor and a very high level of expectations, and at the same time a way of communicating that is respectful and light and friendly, people appreciated that especially in situations that could be considered high-stress."
- Katie Hurst contributed to this story