GC ranked among best nationally for preparing teachers
Goshen College's Education Department has been ranked in the 96th percentile nationally for its undergraduate secondary education program in the National Council on Teacher Quality's (NCTQ) latest ratings of 717 undergraduate programs that prepare high school teachers.
Goshen is one of only five Indiana colleges in the top 10 percent, and is tied with Purdue University in the 96th percentile, the highest in the state.
More than 90 percent of GC secondary education graduates who sought a teaching position in the last three years are now employed as teachers.
Goshen's secondary education program prepares students to teach fifth through 12th grades in diverse classrooms around the country. The program's integrated focus on hands-on learning provides field placements in local classrooms starting in the first semester and continuing throughout the course of study, and includes courses for a teaching license while majoring in one of many possible concentrations: business, chemistry, English, English as a new language, journalism, life sciences, math, music, Spanish, physical education, physics, social studies, theater or visual art.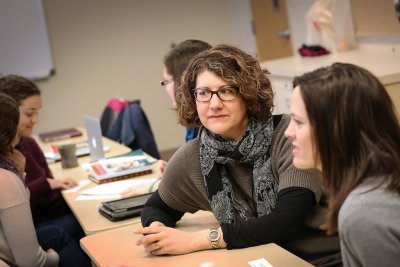 The study examines programs' admission standards, subject-area preparation, requirements for courses on instructional methods, guidance on how to manage a classroom and whether programs provide and ensure the high quality of practice opportunities.
"We are pleased to be recognized for our high quality education program, specifically for the strength of content knowledge that our students develop and for the relevant instruction they receive in their education coursework and fieldwork," said Suzanne Ehst, associate professor of education. "At the same time, we also recognize that NCTQ, like many national ranking systems, has limitations in its methodology."
NCTQ's rankings have received criticism from the American Association of Colleges for Teacher Education (AACTE) and member institutions (which includes Goshen College), claiming that NCTQ does not serve as an appropriate and objective arbiter for such a wide-scale review of educator preparation program quality.
"There is a nuance to excellent teaching that can't be measured simply by examining programmatic requirements (NCTQ's methodology)," Ehst said. "Beyond what the rankings measure, we are proud of the way that we model and maintain high performance standards for our students while simultaneously providing them with individualized support and continual feedback to meet those standards."
The teacher preparation program report is available on the NCTQ website here.