Longtime Concord Schools art teachers exhibit work
Gallery Exhibit: 25: Mary Amador and Neil Boston
Reception Time & Date: Sunday, Sep. 17, 2 – 3:30 p.m. (Artist Talk at 3:30 p.m.)
Exhibition Dates: Sunday, June 11 through Sunday, Sept. 17, 2017
Location: Hershberger Art Gallery, Goshen College Music Center
Cost: Free and open to the public
---
Two Concord Junior High School art teachers, Mary Amador and Neil Boston, will showcase their work in the Music Center's Hershberger Art Gallery between June 11 and Sept. 17, 2017. They will host a reception on Sept. 17, from 2-3:30 p.m., with an artist talk at 3:30 p.m.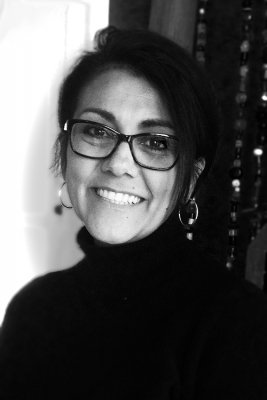 "This collaboration with Neil Boston has been a work in progress for 25 years, the length of time that we've both been teaching art at Concord Junior High," Amador said. "Neil and I have very different styles and messages, yet we learn from one another through conversations, critiques and affirmations. This carries over to the classroom, as I feel we become better instructors when our students observe us practicing the same techniques that we teach and striving to continuously improve our craft.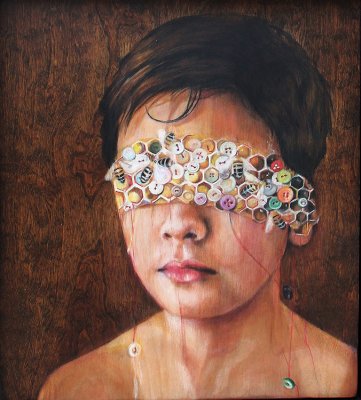 Mary Amador was born in Texas, raised in northern Indiana, and graduated from Herron School of Art in Indianapolis with a Bachelors of Arts in Education. As a veteran teacher of 25 years, Amador models creativity, inspiration and diligence to her students at Concord Junior High School in Elkhart, Indiana.
Amador specializes in mixed media, favoring colored pencil and acrylic paint on wooden panels and often incorporating found objects. She draws her inspiration from her past and her children serve as references to her vibrant but chaotic childhood. Her distinctive personal style embeds the influence of the outdoors, her Spanish culture and religious references, both subtle and obvious.
She exhibits her work locally, and has won several awards for her work, including Best of Show at the Michiana Annual Arts Competition (MAAC), the Jonas Howard Memorial Award at the Midwest Museum of Art Regional Exhibition, and the 2012 and 2014 Ann Hamilton Award for Inspired Teaching.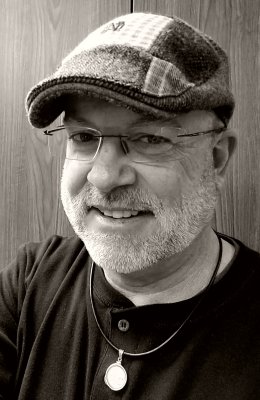 Neil Boston graduated from the University of St. Francis in Ft. Wayne, Indiana in 1981, and earned a master's degree from Indiana University in 1987. He has taught Art at Concord Community Schools for 25 years. He specializes in mixed media on paper and canvas.
For the past five years he has been part of a mission team from the Community Church of Waterford in Goshen. Our church has partnered with the ministry of Kids Alive International to work with two schools and an orphanage in the city of Jarabacoa, Dominican Republic. The majority of work in this show is based on his experiences during the trips to another paradox - poverty surrounded by beauty. Two images are repeated throughout the works; Robert Johnson and a black bull that was grazing in the mountain valley behind Palo Blanco school.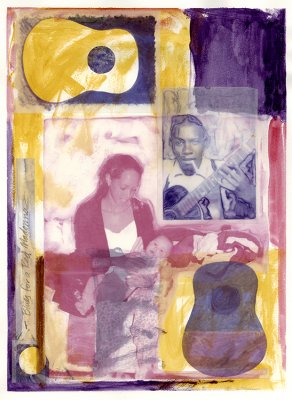 He has adopted the image of Johnson as a symbol for the blues in his visual work. In late December of 2005, he traveled to Gulfport, Mississippi, with a group from Goshen High School to aid the victims of Hurricane Katrina. When he returned home he began to produce images of the devastation. Robert Johnson's face became an icon in his work in a series of pieces titled, "Blues for Gulfport".
Boston's work exists in over 150 private collections. Some of note include Notre Dame and NFL quarterback Rick Mirer, The late NBC Meet the Press anchor Tim Russert, Coach Bob Knight and members Members of the legendary band, Little Feat. His work can also be seen at The Lerner Theater in Elkhart and the Nappanee Public Library.
A combined exhibition will be open April 23-30, including a reception on Saturday, April 29, 2 to 3:30 p.m.
All events are free and open to the public.
The Hershberger Art Gallery is located in the Music Center and is open from 9 a.m. to 4:30 p.m. Monday through Friday, and from 2 to 4 p.m. Saturday and Sunday. The building is accessible to people using wheelchairs and others with physical limitations.