Dr. Luis Fraga encourages graduates to be transformational leaders at 119th commencement
---
Related Links:
---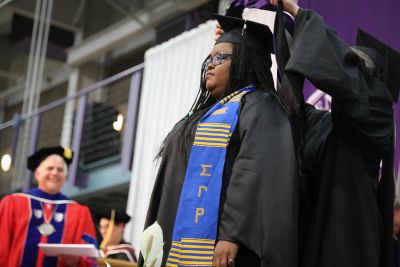 Members of the Goshen College Class of 2017 received undergraduate and graduate degrees after being encouraged by speaker Dr. Luis Fraga, co-director of the University of Notre Dame's Institute for Latino Studies, to be transformational leaders during the college's 119th commencement on Sunday, April 30.
The Class of 2017 consisted of 241 graduates who were awarded the following degrees: 148 Bachelor of Arts, 13 Bachelor of Science in Nursing, 56 Bachelor of Science, 16 Master of Science as family nurse practitioners, 5 Master of Business Administration, and 3 Master of Arts in Environmental Education.
Due to rain, the graduates were led in an indoor processional by current and retired faculty into the packed Roman Gingerich Recreation-Fitness Center's Gunden Gymnasium for commencement.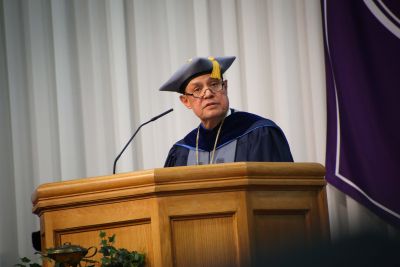 In his commencement address "Transformational Leadership for the 21st Century," Dr. Fraga said, "The source of leadership that is needed in the 21st Century comes from your values, and the hope driving that leadership will be provided by your vision. … Use your values to live the vision that will drive you to have a life that makes a difference in our world."
Dr. Fraga said that there are two basic types of leaders today: transactional and transformative. He described a transactional leader as the traditional understanding of a successful leader who does a good job and works hard, but "ultimately they are simply routine decision makers" and "they could be replaced by many of their colleagues."
He described transformational leaders as similar, but "has as her or his driving motivation to move their organizations, their coworkers, their students to achieve goals they never thought about, to find inspiration in new ideas." As well, "they are especially focused on including those who have not traditionally been included," he said.
Dr. Fraga went on to describe his own inspirational life and career path, as he has sought to be a transformational leader. "As I reflect on my own path to leadership," he said, "I know that it is grounded in the deep Christian faith and an equally deep faith in a limitless future that I learned from my parents."
As a way of self-reflection, Dr. Fraga offered three questions to help assess whether one is a transformational leader:
First, am I putting myself in a position where I am out of my comfort zone?
Second, would my parents, grandparents, and ancestors be proud of what I am doing and attempting to do?
Third, am I helping others in my work and in my life, especially those who are not accustomed to being helped and supported?
Dr. Fraga concluded, "As our nation grows in its multiculturalism — along the lines of religion, ethnicity, race, sexuality, lines of historical division in our country — your values and your vision, your transformational leadership, are needed now more than ever to build an America worthy of your and future generations."
In addition to serving as co-director of the Institute for Latino Studies, Dr. Fraga is the Arthur Foundation Endowed Professor of Transformative Latino Leadership, the Joseph and Elizabeth Robbie Professor of Political Science and a fellow for the Institute for Educational Initiatives at Notre Dame. He has been on the faculty at the University of Washington, Stanford University, and the University of Oklahoma. He is a native of Corpus Christi, Texas.
During the ceremony, the college also honored two retiring teaching and administrative faculty: Dean Rhodes, associate professor of Spanish; and Clay Shetler, physical plant director. Board member Dr. Bruce Stahly also recognized outgoing president Dr. James E. Brenneman.
After the benediction, the faculty lined the main corridor of the Recreation-Fitness Center and applauded the departing seniors. The "applause tunnel" tradition also takes place at the beginning of each academic year to welcome students back to campus.
Baccalaureate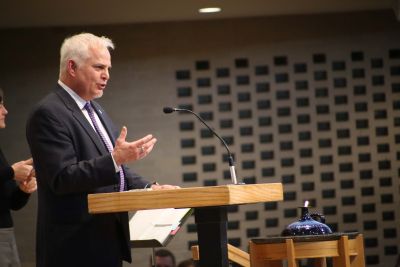 At the baccalaureate worship service in the morning before commencement, President Brenneman delivered a sermon titled "Mighty, the Plantings of God," based on Matthew 13:31-32. (Read the full-text of the prepared speech.)
"[Jesus] is emphasizing the inherent, deep-seeded, greening power within each one of us to do some rather audacious things in life, like moving whole mountains!" he said.
Brenneman added, "Now is the season that you graduates are on the brink of commencing into the rest of your lives. Now is the season you burst forth revealing to the whole world the greening power that lies deep within each one of you. And now is the time, we … stand in wonder and awe as we see the flowering of the seeds planted in you however many years ago when you first became a GC student."
And finally, he offered many examples of "how so many others of you have sown and will continue to sow seeds of peace, justice, and reconciliation." The graduating seniors were then invited to plant an actual seed in a container of soil.
Other events during the busy weekend at Goshen College included a senior program, which showcased the talent of the Class of 2017, a senior art exhibit, academic department receptions for graduates and their families, a nurse's pinning ceremony and an evening reception hosted by President Brenneman and his wife, Dr. Terri J. Plank Brenneman.
Class of 2017 by the numbers:
Total number of graduates: 241

16 Master of Science in Nursing degree recipients
5 Master of Business Administration
3 Master of Arts degree recipients
148 Bachelor of Arts degree recipients
56 Bachelor of Science degree recipients
13 Bachelor of Science in Nursing degree recipients

Number of graduates from Indiana: 121
Number of states represented in this year's graduating class: 21
Number of countries represented in this year's graduating class (other than U.S.): 9
Number of students graduating with honors — grade point averages of 3.6 to a perfect 4.0 (based on grades as of December 2016): 83