FiveCore Media students collect five Telly Awards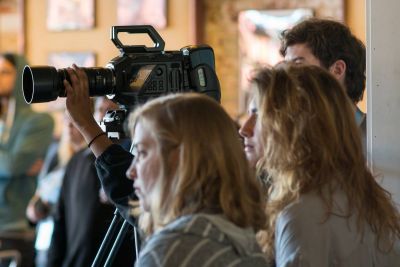 The Goshen College Communication Department continues to enjoy a winning season in national competitions this year, receiving top national honors this month with five Telly Awards. This is the most Telly Awards Goshen College as ever won.
The Telly Awards is a national competition designed to distinguish commercials, video, film productions and work created for the web. The Telly is one of the most sought-after awards by industry leaders, from large international firms to local production companies and ad agencies. The 37th Annual Telly Awards received more than 13,000 entries from all 50 states and 5 continents.
Students at Goshen College's video production company, FiveCore Media, received Bronze Telly Awards for their work on projects promoting Goshen College, Goshen Health, Ignition Garage and the Goshen Health Center for Cancer Care.
"Giving our students hands-on learning opportunities and seeing their hard work nationally recognized is very rewarding," said FiveCore Media's General Manager, Kyle Hufford. "Ultimately, the more professional experiences we have for our students the more successful they will be. This is why competitions are so important to the learning process, and we have seen many of our graduates benefit from these professional projects and awards in their portfolios."
The Telly Awards include:
Bronze in General Schools/Colleges/Universities for Commercials / Marketing

– Jesse Bontreger and David Leaman Miller:

Goshen College Music Department Commercial

Bronze in General Music/Concert for Non Broadcast Productions

– Jesse Bontreger, David Leaman Miller, Tim Litwiller and Takoda Friesen:

From the Garage: Wilson's Reservoir

Bronze in General Employee Communications

– Jesse Bontreger, Abby Deaton Shetler and David Leaman Miller:

Goshen Health New Brand Teaser

Bronze in General Health and Wellness

– Jesse Bontreger, Carley Wyse and Tim Litwiller:

Goshen Health Center for Cancer Care Integrative Care Team Orientation

Bronze in General Production Co./Ad Agency Demo Reel

– Jesse Bontreger and David Leaman Miller:

FiveCore Demo Reel
"I echo the rest of my department in saying we couldn't be more proud of what our students accomplish on a consistent basis," said David Kendall, professor of communication and adviser to GCTV's The Correspondent, a television news magazine. "Our culture of excellence is born from hard work and we plan to continue this tradition from year to year."