Lavender Jazz and All-Campus Band to perform March 25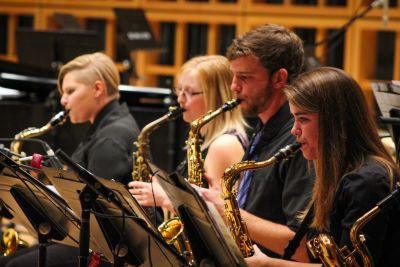 Concert: Goshen College All-Campus Band & Lavender Jazz Fall Concert
Date and Time: Saturday, March 25, 7:30 p.m.
Location: Goshen College Music Center's Sauder Concert Hall
Cost: Tickets: $7 adults, $5 seniors/students, available online or by calling (574) 535-7566. GC faculty/staff/students free with valid ID.
Watch live
---
Goshen College's All-Campus Band and Lavender Jazz ensemble will perform in a joint concert on Saturday, March 25 at 7:30 p.m in Goshen College Music Center's Sauder Concert Hall.
All-Campus Band is conducted by José Rocha and features wind musicians from across campus, both music majors and non-majors, and including faculty and staff. Their program will include works for wind ensemble by Rossano Galante, Bruce Broughton, and Randol Alan Bass.
Lavender Jazz is Goshen College's big band jazz ensemble, and is directed by Chris French. This GC student ensemble's program will include jazz charts by Arturo Sandoval, Thelonius Monk, Gordon Goodwin, Frank Loesser, and Richard Rogers. The Lavender Jazz Small Combo will also perform as part of the concert.
Tickets for this concert are $7 adults, $5 seniors/students, online at goshen.edu/tickets or by calling (574) 535-7566. Goshen College faculty/staff/students are free with valid ID.
José Rocha, DMA, is associate professor of music at Goshen College and director of the Goshen College Symphony. He is a sought-after conductor and cellist in the United States and Mexico. Strongly committed to music education, Rocha has taught and directed middle school and high school orchestras in Florida, Texas, and Mississippi for the past 15 years. Rocha made his Carnegie Hall Debut leading the Johnston Sinfonia Orchestra in 2014. Rocha has enjoyed a diverse musical career, conducting and performing with Ray Price, Glenn Frey, Frank Sinatra Jr., Marvin Hamlish, Ray Charles, and Johnny Mathis among others. His orchestral experience includes membership in the Southwest Florida Symphony, Orlando Philharmonic, Savannah Symphony, Symphony of South East Texas, and the Strauss Symphony of America. Rocha holds a Doctor of Musical Arts degree from the University of Houston, and Bachelor and Master of Music degrees from the University of Florida.
A versatile instrumentalist, Chris French is an accomplished clarinetist, saxophonist, and flutist. He received B.M. and M.M. degrees from the Juilliard School. While in New York, he was principal clarinetist of the National Orchestra of New York, and studied with Leon Russianoff, Joe Allard, Charles Russo, and Warne Marsh. After briefly playing with the Orquesta del Estado de Mexico, he returned to Los Angeles (where he grew up) and pursued a career as a symphony orchestra and recording studio musician. In addition to Goshen College, Mr. French is also on the faculty of Indiana University South Bend and St. Mary's College. He plays regularly with classical and jazz performing groups in Indiana, Michigan, and Illinois, and has been featured soloist with many of the Michiana music ensembles. Mr. French has played at the Elkhart Jazz Festival for the past 10 years.