Riley Bean-Mills to premiere new documentary about the Goshen Theater
Documentary premiere: "Admit One: The Story of the Goshen Theater"
Date & Time: March 11, 2017, 7-9:30 p.m.
Location: The Goshen Theater
Tickets: $35, available online at AdmitOne.BrownPaperTickets.com
On-campus screening: Tuesday, April 11 at 8 p.m. in the Umble Center
---
On March 11, from 7 to 9:30 p.m., the Goshen Theater is hosting an elegant evening of entertainment, jazz, cocktails and film in celebration of the release of a new documentary chronicling the story of the theater.
The documentary, "Admit One: The Story of the Goshen Theater," was directed by Riley Bean-Mills, a junior communication major from Milltown, Indiana, in conjunction with Goshen College's film production company, FiveCore Media. The 26-minute documentary explores the rich history of the Goshen Theater and the tremendous task currently underway to restore and revive it.
The evening will begin with a silent auction when guests can bid on luxury items while enjoying live music from the Jabberwock Jazz Quartet, heavy hors d'oeuvres catered by Kelly Jae's Cafe and handcrafted cocktails.
Silent auction items include a sailing trip on Lake Michigan valued at $900, a hot air balloon ride for two valued at $450, a 49-person private screening of a film of your choice at Art House valued at $150, a gas grill or outdoor patio furniture set from Kuert Outdoor Living valued at over $1,000, a seven-course dinner for six valued at $300, a gift basket from downtown Goshen retailers valued at $200, and a downtown Goshen entertainment package valued at $300.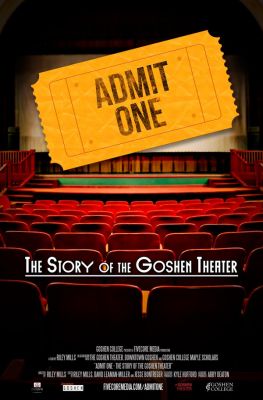 Following the silent auction, Jeffrey Marks, an expert on the Goshen Theater's original namesake, actor Joseph Jefferson, will present on Joseph Jefferson and Goshen's connection to the Chicago Theater. Marks is an active trial attorney in Chicago who counsels and represents artists and theaters for Lawyers for the Creative Arts. He is also a theater producer, actor, singer, dancer, musician and technical director. Marks chairs a Fine Arts Commission and produces and hosts a Cable TV fine arts series. He also performs and tours with the timely political parody revue, "The Bar Show."
The main event, the debut of "Admit One," will begin at 8:20 p.m. in the Theater auditorium, followed by a Q & A with director Riley Bean-Mills and producer Kyle Hufford. Brett Weddell and Chad Gascho will close the evening with a special announcement from the Goshen Rotary Club.
This will be an evening to remember –– so dress to impress! Black ties and suit coats are recommended for men and evening gowns or cocktail dresses are recommended for women.
Tickets are $35, which include entry to all the evening's events, along with hors d'oeuvres. The bar is a cash bar. Purchase tickets online at AdmitOne.BrownPaperTickets.com to enjoy a memorable evening filled with art, music, film, and community while also supporting the restoration of this treasured Indiana landmark.