Goshen College reaches out to Saint Joseph's College students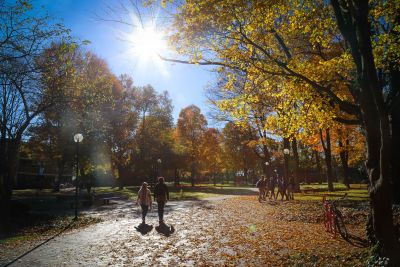 As Saint Joseph's College (SJC) prepares to suspend operations at the end of the current semester due to financial hardships, Goshen College is committed to providing support and financial assistance for the 900-plus students who wish to finish their academic career in Indiana. SJC is located in Rensselaer, Indiana, only about two hours southwest of Goshen.
"It is heartbreaking to see a sister college in Indiana in this unfortunate situation," said Goshen College President Jim Brenneman. "Our thoughts and prayers are with all of Saint Joseph's students, staff, alumni and families in this difficult season."
He added, "As a fellow private, religious, liberal arts college with a similar mission and commitment to faith and service, we want to help the affected students complete their academic studies and graduate on time. Goshen College will strive to provide a seamless transfer experience for any Saint Joseph's students who wish to complete their degree here at GC and make this their new home."
Goshen College officials have reached out to Saint Joseph's College administrators and have compared the programs of study and financial aid, and feel confident that most students will be able to find compatible options at GC.
Promises Goshen College makes to SJC students transferring for 2017-18:
Offering a "teach out" option that would allow students to receive a degree from SJC if they so desire and if they have earned 90 or more credit hours, pending final approval from the Higher Learning Commission.

Offering a special $2,500 scholarship just for students transferring from SJC, in addition to academic scholarships for transfer students;

Maximizing the transferability of credits and assisting in creating a plan of study to meet graduation requirements.

Offering preferential transfer status by waiving the application fee and offering rapid transcript evaluation; and

Coaches are willing to meet with student-athletes to explore the opportunity to join one of our 16 athletics teams that compete in the NAIA Crossroads League.
Goshen College representatives will be attending the upcoming college fairs at SJC.
For more information, visit: www.goshen.edu/saintjosephs