Goshen College and Interurban Trolley create free bus pass program for students, staff
Goshen College students, faculty, and staff will be able to ride the Interurban Trolley free, starting Wednesday, Feb. 8. Free rides are available at all times during normal operations of the Trolley's five fixed routes just by swiping their current Goshen College ID card.
The Interurban Trolley typically cost $1 for each trip, and over a semester that would add up. With the new partnership between Goshen College and the Interurban Trolley, all of those rides are free, no matter the destination. This program will encourage more students, faculty and staff to not bring a personal vehicle to campus and help Goshen College to continue to reduce its carbon footprint; as it has already been named one of America's Greenest Colleges by the Princeton Review and the Sierra Club.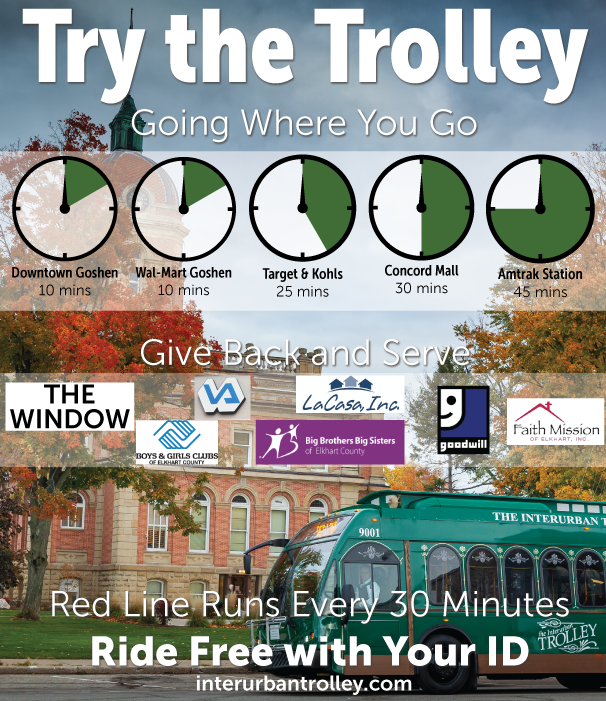 "We're pleased to partner with the Interurban Trolley to provide our students and staff an affordable and efficient way to navigate Elkhart County, especially for students who don't have other transportation or who are looking for a greener way to travel," said Launa Leftwich, Dean of Students.
The Goshen College campus is served along College Avenue on the north side of campus by the Interurban Trolley's Red Line. Trolley Bus service has been stopping near campus since 1999.
"Goshen College has expressed interest in a partnership for a long time," said James Turnwald, Executive Director of the Michiana Area Council of Governments.
"This is a win-win for both Goshen College and the Interurban Trolley," explained Turnwald. "And we're committed to making it easier for people to try the Trolley."
This is the second partnership the Interurban Trolley is pleased to create with an educational institution in Elkhart County. The first being a partnership with Ivy Tech Community College beginning in August of 2015, which continues to run successfully.
Transit information, including routes and schedules, can be obtained by calling the Michiana Area Council of Governments (MACOG) at (574) 674-8894 or visiting www.interurbantrolley.com.