Broadway set designer Karl Eigsti to be visiting artist at Goshen College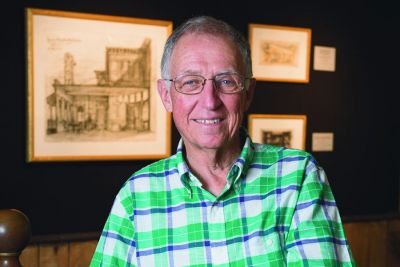 Keynote address: "What Exactly Do Designers in Theater and Film Do?"
Date & Time: Tuesday, Jan 31, at 7:30 p.m.
Location: Umble Center. A reception will follow in Umble Center Room 132
Cost: Free and open to the public
---
Karl Eigsti, a Tony Award-nominated set designer, will share his experience later this month at Goshen College through an art exhibit and a keynote address on Jan. 31 at 7:30 p.m. in the Umble Center, titled "What Exactly Do Designers in Theater and Film Do?"  
Eigsti is the 2017 Eric Yake Kenagy Visiting Artist and Roy H. Umble Master Class lecturer. He will be on campus Jan. 31-Feb. 3, 2017, sharing about his lifetime experience as a set designer with Goshen College campus and local community. Eigsti's class presentations are free and open to the public. An exhibit of his set designs will also be on display in the Goshen College Hershberger Art Gallery from Jan. 22-Feb. 26.
Eigsti has worked as a designer in the American theater for five decades. He earned a bachelor's degree in 1962 from American University, and after spending two years on a Fulbright Scholarship to England, he received a master's degree in theater from England's University of Bristol in 1964. He returned to America and became resident designer at Arena Stage in Washington, D.C, and has been involved in 20 Broadway productions.
In addition to his Broadway productions, Eigsti has designed at many of the leading theaters in the country including: The Arena Stage, The Guthrie Theater, The Mark Taper Forum, Lincoln Center, The Kennedy Center, The Public Theater in New York, The Delacorte Theater in Central Park, The Circle Rep in New York, The Manhattan Theater Club, Long Wharf Theater, The Pittsburgh Public Theater, The Cincinnati Playhouse, The Milwaukee Repertory theater and numerous plays off-Broadway that include: the original productions of "Joseph and the Amazing Technicolor Dreamcoat," Arthur Miller's "American Clock," John Guare's "House of Blue Leaves," Athol Fugard's "Boesman and Lena" and Isaac Basheva Singer's "Yentl." He was nominated for a Tony Award for his designs for "Knockout" on Broadway, for which he also won the Joseph Maharam Award.
Throughout his design career, Eigsti has taught in graduate programs throughout the country. He was appointed an adjunct to the design faculty of the NYU Tisch School of the Arts at its inception, and continued teaching there for 19 years. He left to become head of the graduate design program at Brandeis University, a position he held for 21 years. At Brandeis he was awarded the Leonard Bernstein Creative Arts Award. His design work in theater is the subject of one chapter of Arnold Aronson's book, American Set Design, Vol.I. Examples of his designs also appear in many textbooks and publications on the subject of set design in America. He was awarded The USITT Lifetime Achievement Award in 2002, and The USITT Distinguished Teaching Award in 2008. At that time he was only the second teacher of design to receive this recognition, the first being Ming Cho Lee.
Eigsti is the son of long-time Goshen College supporters and alumni, Orie J. Eigsti '31 and Agnes (Weaver) Eigsti '32.
The Eric Yake Kenagy Visiting Artist Program honors the late Eric Yake Kenagy, who was a gifted ceramics student at Goshen College from 1984 until his death in 1986.
The Roy H. Umble Master Class brings nationally known practitioners and experts in communication and theater to the Goshen College campus annually for events and activities that enrich and inspire students, faculty, the broader campus and local and church communities. Roy H. Umble (1913-1996) dedicated his life as a faculty member to Goshen College and its heritage. He had a deep commitment to the Mennonite Church and expressed his faith to many generations of Goshen College students through his involvement in speech and theater. The Master Class was established with gifts from Goshen College alumni who had benefited from Roy's teaching and inspiration. An initial gift from Janette Brunk in 1994 served as a tribute both to Roy and her parents, Perry and Fern Brunk, who developed an appreciation for theater because of their daughter's involvement in it. In 1996, alumnus David E. Yoder, one of Roy's many former students and admirers, initiated a fund-raising effort to build an endowment to support a master class.