Twenty-five students earn NAIA scholar-athlete awards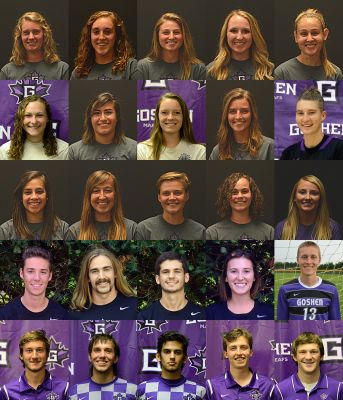 The Goshen College athletic department strives to develop student-athletes athletically, academically, and as individuals of character in the community.
This fall, the Maple Leafs saw another milestone in those efforts, as for the second consecutive year the Goshen women's soccer team led the NAIA with 14 Daktronics-NAIA Scholar-Athletes. All told, 25 fall student-athletes were recognized by the NAIA, marking the third straight year that GC has had at least that many recognized in the fall semester.
As fall national championships recently wrapped up at multiple sites throughout the country, the academic awards rolled in. In the previous four-plus years, the Goshen College athletic department has accumulated an impressive 218 scholar-athletes; in addition, the exploits of the men's and women's tennis teams are not included in the fall because that NAIA championship is held in the spring.
Both the men's and women's soccer teams matched their 2015 scholar-athlete totals, as did the men's cross country program.
A student-athlete must maintain a minimum grade point average of 3.5 on a 4.0 scale, have achieved junior academic status, and be nominated by their institution's head coach or sports information director to qualify. Transfer students must have completed at least two semesters at their current school.
Basketball honors will be announced at the conclusion of the season in March. Awards in baseball, softball, and track and field will be announced at the NAIA championships for those sports, held in the spring, along with men's and women's tennis as mentioned previously.
Women's Soccer (14)
Megan Baumgartner (Hesston, Kan.)
Maddie Birky (Goshen, Ind.)
Lena Charles (Plainfield, Ind.)
Kate Crawford (Sagamore Hills, Ohio)
Dusti Diener (Harrisonville, Mo.)
Melanie Drinkwater (West Sayville, N.Y.)
Courtney Featherstone (Byron, Mich.)
Karina Flores (Goshen, Ind.)
Rachel Short-Miller (Bellingham, Wash.)
Natalie Thorne (Goshen, Ind.)
Janeth Vela (Goshen, Ind.)
Courtney Wengerd (Goshen, Ind.)
Ardys Woodward (Newton, Kan.)
Molly Zook (Doylestown, Ohio)
Men's Soccer (6)
David Bontrager (Archbold, Ohio)
Gabriel Eisenbeis (Freeman, S.D.)
Kevin Florentin-Sprung (Asuncion, Paraguay)
Mark Kreider (North Newton, Kan.)
Philip Longenecker (Grayslake, Ill.)
Andrew Snyder (Goshen, Ind.)
Men's Cross Country (3)
Brenner Burkholder (Topeka, Kan.)
Isaiah Friesen (Filley, Neb.)
Luke Kaufman (Goshen, Ind.)
Women's Cross Country (1)
Jill Steinmetz (Bluffton, Ohio)
Volleyball (1)
Danielle Plank (LaPorte, Ind.)