Students publish 'Freaky Squirrels,' a collection of stories by GC alumni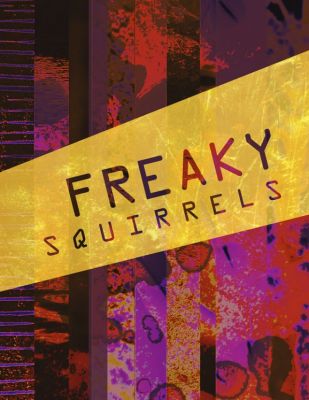 Six Goshen College students have spent the semester working to publish a new literary journal, titled "Freaky Squirrels: No Answers, Just Stories," a collection of essays, memoirs and photos, all contributed by GC alumni.
A release party was held Wednesday, Dec. 7, in Java Junction in the Goshen College Connector (map), with a brief reading of a few excerpts from the literary journal's collection of essay, memoirs, and photos, written by GC alumni.  The journals are on sale for $7, and can be purchased from the English department in person or by emailing pinchpennypress@goshen.edu. 
Under the supervision of Ellah Wakatama Allfrey, visiting professor at Goshen College this fall, the journal is the result of an editing and publishing class, which functioned as an editing team and also as a their very own publishing house, the Occasional Press.
The students in the class are Maddie Birky, a senior journalism and spanish major from Goshen; Dusti Diener, a junior English major from Harrisonville, Missouri; Helena Neufeld, a senior English major from Lancaster, Pennsylvania; Joe Kreider, a senior English and Writing major from Elkhart; Peter Shirk, a sophomore English Writing major from Goshen; and Maggie Weaver, a senior English Writing major from Lititz, Pennsylvania.
Each author included in the literary journal was handpicked by the students. The goal of the project, according to their mission statement, was to create a platform for the "unique perspective of the Goshen College community, reaching beyond the echo chamber of academic writing, to celebrate talent, push boundaries and give voices to the great variety and multiplicity of our common experiences." The stories serve as a testimony to the "enduring value of the Goshen College community," giving tribute to the memories, relationships and experiences held throughout the campus's long history.
Author biographies:
Ellah Wakatama Allfrey graduated from Goshen College in 1988. Allfrey is an editor, broadcaster and literary critic who grew up in Zimbabwe, and now resides in England. She is renowned for her work in Anglophone African literature, and was awarded the title of Officer of the Order of the British Empire (OBE) by Prince Charles in 2011, which is one of the highest cultural honors in England. She is former deputy editor of Granta magazine. She also served as a judge for the 2015 Man Booker Prize. Currently she serves on the arts selection panel for the Rockefeller Foundation's Bellagio Fellowship and is a judge for the 2016 Dublin International Literary Award. Allfrey is currently a visiting professor at Goshen College for the fall semester of 2016.
Ervin Beck is a professor emeritus of English at Goshen College and co-editor of the Journal of the Center for Mennonite Writing. A native of Pettisville, Ohio, he graduated from GC with a degree in English in 1959. He subsequently earned a master's degree and Ph.D. in English literature from Indiana University, and accepted a professorship at Goshen College in 1967. In 1973, he became the first professor to teach a course in international literature at Goshen College. He continued to teach and write about this subject until his retirement in 2003.
One of the students in Ervin's International Literature course was Sofia Samatar, a 1994 Goshen graduate whose first book, A Stranger in Olondria, was awarded the 2014 World Fantasy Award for Best Novel. Sofia, a current professor of English at James Madison University, was born in Goshen to a Somali father and an American Mennonite mother, and continues to find creative ways of mediating and expressing these identities in her dual roles as a writer and scholar of African literature. In this piece, Ervin Beck offers his thoughts as a teacher, mentor, and admirer of Sofia Samatar, helping to contextualize aspects of her work within her varied provenance as a Somali, Mennonite, student of African literature, and, of course, a graduate of Goshen College.
Phil Weaver-Stoesz is a recent graduate of Goshen College, completing a BFA in Theater in 2012. Native to Goshen, Indiana, Weaver-Stoesz currently lives in Arizona where he is pursuing a master's degree in theater direction. In Goshen, he was a part of a theater troupe titled GoShakes and now works in a small group called Catalyst Collective, which gives current events in science a creative spin.
Raj Biyani is the former managing director of Microsoft IT India and a 17-year veteran of Microsoft corporation. He arrived at Goshen College in 1988 to study computer science and accounting, and graduated in 1992. He subsequently earned an MBA from the University of Chicago and joined Microsoft as a program manager in 1999. His tenure as the managing director of Microsoft IT India from 2010-2016 was marked by a number of honors and distinctions, most notably a Harvard Business School case study. While at Microsoft, he filed multiple U.S. patents, and he established himself as a thought leader by authoring or co-authoring ten "ThinkWeek" papers for Bill Gates. He delivered the keynote address at Goshen College's 117th commencement ceremony in 2015. He currently serves on the advisory board of a Seattle based start-up and as a mentor/coach to business leaders in India and the United States.
Wilbur Birky is professor emeritus of English and former director of international education who worked at Goshen College from 1964-2002. Having attended GC for only one-and-a-half years following his graduation from Hesston College, Birky found himself heavily involved in global citizenship, both on and off campus. He and his wife Fanni led Study-Service Terms (SST) in Costa Rica in the 70s and the 90s, for two years total. They also led an SST group in China in the fall of 1985, just five years after the first ever group was taken there. Birky has continued his role as a passionate learner, fulfilling the role of the leader of LifeLong Learning of Elkhart County during his retirement. He and Fanni currently reside in Goshen.
Michael Jantze was born in 1962 in Middletown, New York, and grew up in Normal, Illinois before attending Goshen from 1980-81. He then moved to Los Angeles to pursue an education in film at California State University, Northridge. Since then Jantze has worked as a filmmaker, newspaper journalist, visual effects art director and cartoonist. Jantze is most famous for his syndicated comic strip "The Norm," which is now weekly on gocomics.com/jantze. He is the owner of Jantze Studios, which focuses on character-based humorous entertainment for print and animation.
E. Cristina Hernandez is a self-professed "nomadic romantic on a timeless journey," as well as the founder and creative director of the online marketplace Coquette's Armoire. She works with artisans around the world and together they design handmade products to be marketed locally and internationally, promoting fair trade practices. Hernandez was born in Honduras and graduated from Goshen College in 2000.
Steven Hochstetler Shirk grew up near Philadelphia, and graduated from Goshen College in 1991. Originally a physics major, he spent a year in Paraguay and later a semester in Poland during his college years. He and his wife, Cheryl, served nearly ten years in Russia and Ukraine as Mennonite Central Committee country representatives. He has lived on four continents and speaks more than ten languages. More recently, he and Cheryl served four years as country representatives in Mozambique, introducing sand retention dams to harvest water in drylands. They now live in Goshen.
Julia Spicher Kasdorf is an acclaimed poet and essayist whose work has appeared in The New Yorker, The Paris Review and Garrison Keillor's Writer's Almanac. She attended Goshen College for two years, studying English under such professors as John Fisher, Nick Lindsay and Ervin Beck, and served at Sichuan Teachers College as part of Goshen College's China SST program. She then completed her B.A. and Ph.D. in English at New York University. She is the author of three poetry collections, the first of which, Sleeping Preacher (1992), was awarded the Agnes Lynch Starrett Poetry Prize, as well as the essay and poetry collection, The Body and the Book:Writing a Mennonite Life (2009), which was named Book of the Year by the Conference on Christianity and Literature. She is currently a professor of English and women's studies at Penn State University.
Vance George is one of America's preeminent choral conductors, winning four Grammy Awards and an Emmy while leading the San Francisco Symphony Chorus. After graduating from GC in 1955 with a double major in piano and voice, he studied at Indiana University, and then was the associate conductor of the Cleveland Orchestra Chorus for seven years. George worked with the San Francisco Symphony Chorus for over 23 years, and has also served as a guest conductor for the San Francisco Symphony. Well known for his deep understanding and mastery of many musical styles and the union of chorus and orchestra, he was awarded an honorary doctorate from Kent State University in 1997 and a Lifetime Achievement Award by Chorus America in 1999. George continues to travel and work as a guest conductor.