GC senior attends national conference for women's student leadership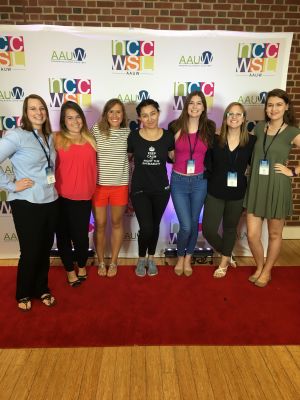 Brianne Brenneman, a senior molecular biology and biochemistry major from Mason, Ohio, recently attended the National Conference for College Women Student Leaders (NCCWSL).
Goshen's local chapter of the American Association of University Women approached Beth Martin Birky, professor of English and women's and gender studies director, about sponsoring a woman in the STEM (science, technology, engineering and math) field at the conference this year. Birky recommended Brenneman, who works as a teaching assistant and leads GC's Service Club, which gets students involved with on- and off-campus projects.
"Once I looked into NCCWSL I gladly accepted," said Brenneman.
The annual conference, which took place from June 2-4 at the University of Maryland, hosts workshops, speakers and networking opportunities for college women with the intention of preparing the next generation of leaders. This is the 31st year for the conference, with 900 students registering to attend this year alone.
Each day of the conference provided a variety of opportunities for students to learn and explore. Brenneman volunteered at the Washington D.C. food bank, participated in a career fair and attended workshops and lectures. The conference also holds a Women of Distinction Awards ceremony to recognize women who have made extraordinary contributions to their professions or communities.
One keynote speaker whose message connected strongly with Brenneman was Hilary Corna, the former senior executive officer of Toyota Asia.
"She was really a highlight for me," said Brenneman. "She talked about how we should constantly be daring ourselves and never accept reality. I especially resonated with her points about how we should go about making global relationships and how we cannot just do things the American way — we must listen to others and be willing to go out of our comfort zone in order to make change."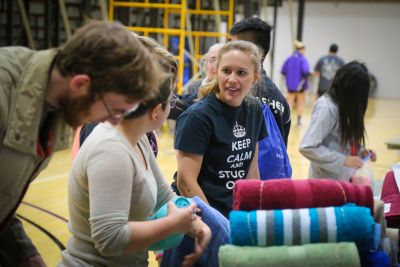 Several other GC students have attended the conference in the past, also sponsored by the Goshen chapter of the American Association of University Women, an organization founded in 1881 that promotes equity and education for women and girls.
"Conferences like this are important for women to attend because it allows us to make new relationships and to learn more about what we believe," said Brenneman. "I got to hear from powerful, inspiring, strong women and I felt connected to them because we were women who understood each other. There was mutual respect between everyone at this conference, and that kind of community and opportunity doesn't happen often."
Brenneman said that she is now aware of many more ways she can be a leader on Goshen's campus. "I have always thought I was involved, but I was ashamed after learning how many things I could or should be doing at my school to make sure students are being given proper resources," she said. "I think I will try to participate in more justice-oriented clubs and organizations on campus."
— By Grace Weaver '16