Living Water: Goshen College's Sustainability Leadership Semester offers an immersive experience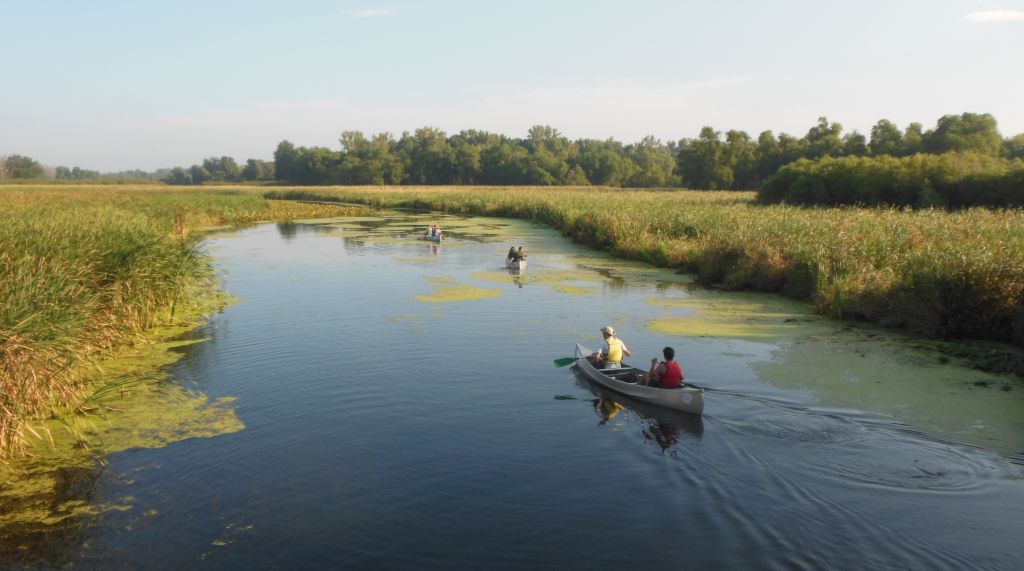 Starting from the headwaters of the Elkhart River, a group of Goshen College students and professors canoed their way north, and over the course of eight days and about 60 miles, all the way to Lake Michigan.
Along the way they stopped to talk with people whose lives are intertwined with the river, from city sustainability coordinators to fishery and dam operators to a pastor who uses the river for baptisms. At night they camped or stayed with hosts.
The canoe trip is a central part of Goshen College's Sustainability Leadership Semester (SLS), a 15 credit semester-long program each fall designed to provide undergraduate students with hands-on, experiential learning while engaging real environmental issues in the region.
Water, and how it affects our lives, forms the backbone of the SLS, which is based at Merry Lea Environmental Learning Center, Goshen College's 1,189-acre nature sanctuary in Wolf Lake, Indiana (about 30 minutes southeast of the main campus).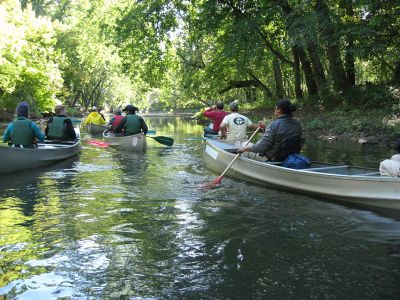 "Getting to see this region from the water was really special," said Cecilia Lapp Stoltzfus, a junior environmental science major from Washington, D.C., who participated in the fall of 2015. "Being able to see these landscapes that I know from a new perspective was very eye-opening. The canoe trip was a kind of entry point into understanding our place."
Students live at Merry Lea's Rieth Village, home of Indiana's first LEED Platinum-certified buildings, where they live, eat and learn together in a "living classroom." Seeing and understanding the watershed in this way provides a foundation for the semester as students talk about solving complex sustainability issues.
The canoe trip follows a 10-day orientation, called "headwaters," in which students are introduced to the policy, faith, ethical, economic and sociological threads that are woven throughout the semester.
When students return to Merry Lea for the heart of the semester following the canoe trip, they dive into interrelated coursework, including classes called Landscape Limnology; Faith, Ethics and Eco-justice; Sustainability and Regeneration; and Environmental Policy and Politics. For their capstone project, students come up with an applicable solution for a real local problem. In addition to coursework, each week includes a sustainable living skills lesson and a daylong field trip to meet with individuals and groups working with the issues facing the region.
"In a semester, students visit more than 60 different sites around the region and speak with as many as 130 different professionals," said Liza Zinn, director of the Sustainability Leadership Semester and assistant professor of sustainability. "This gives students the chance to engage with people who are directly working on the issues that they care about. It allows them to both understand the complexity of many of these issues while also feeling empowered to make change."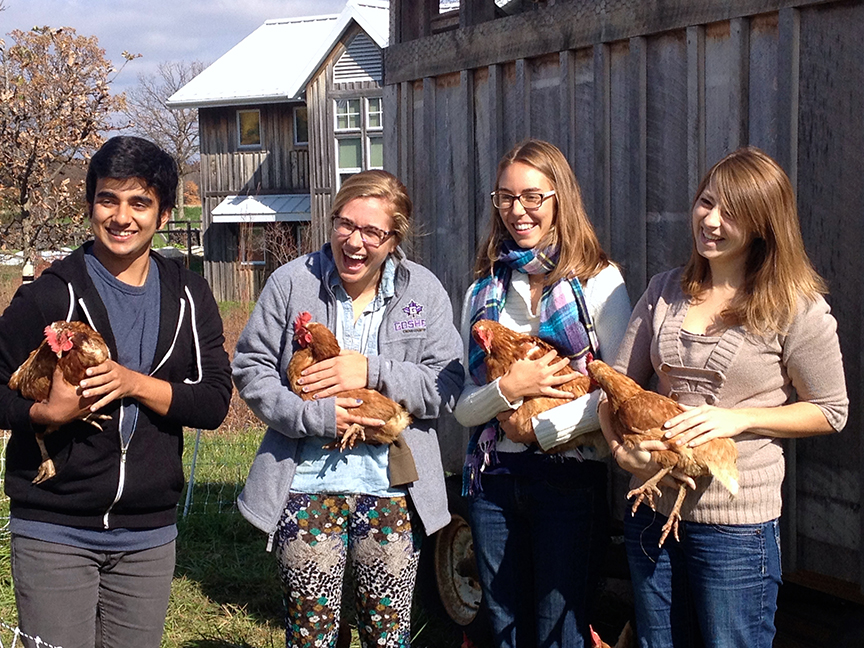 The Sustainability Leadership Semester is just one academic option Goshen College offers students who are interested in sustainability. Complementing the college's environmental science major and minors in sustainability and agroecology is the Agroecology Summer Intensive (ASI) program. During this nine-week residential program based at Merry Lea's Rieth Village, students work at Merry Lea's sustainable farm, which has been listed among the best college farms in the country, while visiting other farms and taking classes. The college also offers a Master of Arts in Environmental Education, an 11-month graduate program designed for people who want to work as environmental educators.
Instilling a love for the natural world and a hope for the future of the environment for people of all ages and faith backgrounds is at the heart of Goshen's sustainability-focused programs. At the beginning of the Sustainability Leadership Semester, Lapp said, a professor promised the class that they would have more hope at the end of the semester than at the beginning.
"I didn't necessarily believe them," she said. "But at the end of the semester I did have a lot more hope, and a lot of that was because of the people and places that we got to know and the hands-on opportunities that we had. Seeing the breadth of initiatives in this region opened my mind to the possibilities of doing this kind of work in other places."